At-Large Director (Position 1)
Rachel Smith
American Red Cross Biomedical Services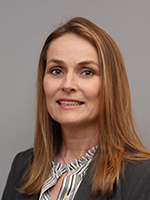 As vice president, client engagement for the American Red Cross Biomedical Services, Rachel Smith is responsible for overseeing the marketing and communication activities for Red Cross blood products and services. She also leads the development and deployment of communication strategies for Red Cross-served hospitals.
Smith joined the American Red Cross in 1995 in the national accounts office of the plasma services division. She worked directly with the sales and marketing organization to contract with hospitals across the country for life-saving plasma derivative therapies. She continued her advancement throughout the next several years by assuming a series of diversified leadership roles. As customer service manager and, later, as director, operations, she oversaw the forecasting, production planning, and finished goods distribution of plasma derivatives valued at more than $450 million annually. During this time, she also managed the centralization of customer service, warehousing and distribution activities for more than 3,000 hospital clients nationwide to reduce costs and enhance service delivery.
As senior director, operations, in 2004, Smith led the Red Cross's operational effort to divest of its plasma services line of business, following the organization's strategic decision to focus on transfusable blood products. Since 2007, Smith has been responsible for the Red Cross's long-term recovered plasma supply agreement and continues to direct its business and technical aspects.
Smith received a bachelor of arts degree from the University of San Diego.