At-Large Director (Position 5)
Jerry A. Holmberg, PhD, MT(ASCP)SBB
Maven Blood Consultants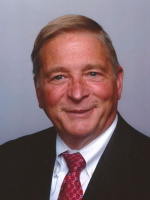 Jerry Holmberg is the president and CEO of Maven Blood Consultants. His focus is providing strategic direction in advancement of blood safety and transfusion medicine science through innovation. He previously served as senior director of strategic scientific innovations at Grifols Diagnostic Solutions Inc.
Holmberg's prior service includes military, public, and private sectors. A career U.S. Navy officer, he served over twenty years holding numerous leadership positions, including the Head of the Navy Blood Program. In 2014, Commander Holmberg (Ret) was honored by the Armed Services Blood Program with the Lifetime Achievement Award from the Department of Defense.
Following his military career, Holmberg's public service included senior advisor for blood policy for the Secretary of Health within the department of U.S. Health and Human Services (HHS) under three Secretaries, executive secretary for the Advisory Committee on Blood Safety and Availability, and expert advisor to the World Health Organization. Safe blood initiatives and commitment to the underserved motivated him to participate in the President's Emergency Plan for AIDS Relief (PEPFAR) from 2004-2011. From 2013 until 2020 he was involved with the Asia Pacific Economic Cooperative (APEC) to raise the awareness of laboratory quality and good manufacturing practices.
Holmberg has been a member of AABB since 1981 and served on numerous committees, such as Annual Meeting, Distance Learning, Hemovigilance, Information Systems, and National Blood Foundation CORD Meeting Committee, and as an accreditation auditor. In 2009, Holmberg received the AABB President's award for his activities in biovigilance. In 2019, Dr. Holmberg was elected to the board of directors for AABB and has been active on the task force on Diversity, Equity, Inclusion and Access.
Holmberg completed a blood bank fellowship at Walter Reed Army Medical Center and PhD from Bowling Green State University. He has chapters in five books and over 40 publications. His recent chapter in Transplant Procurement Management Manual on nucleic acid technology has been published in both English and Chinese.