The 2022 AABB Annual Meeting's General Session will feature keynote speaker Simon T. Bailey, a thought-provoking leader who will address the challenges, uncertainty and value of diversity in today's ever-changing workforce. Simon's presentation will be a mix of inspiration and insight on topics that are relevant to the blood and biotherapies community.
Other highlights of the General Session include:
A welcome from AABB Annual Meeting Education Committee chair Tina Ipe, MD, MPH
Addresses by AABB President Dana Devine, PhD; and AABB CEO Debra BenAvram, FASAE, CAE
Recognition of the 2022 AABB President's Award winners
Celebrations for AABB's 75th Anniversary
About Simon T. Bailey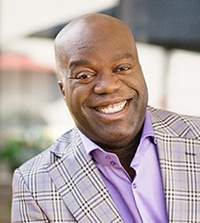 Simon T. Bailey believes you are meant to share your brilliance. His passion and purpose focus on unlocking that ability in a way that ignites sustainable transformation.
He understands the pressure leaders and high performers are facing in the midst of uncertainty, and equips them with simple, easy-to-implement strategies to accelerate results.
LinkedIn Learning features three of his online courses that reach professionals in 100 countries. Simon has more than 30 years of experience in the hospitality industry, including serving as sales director for Disney Institute, and has worked with more than 1,800 organizations in 50 countries.
Bailey has been named one of the "top 25 people who will help you reach your business and life goals" by Success magazine, joining a list that includes Brene Brown, Tony Robbins and Oprah Winfrey. His Goalcast video, released on Facebook, has more than 90 million views worldwide. When he is not working, Simon serves as a board member for the U.S. Dream Academy and Orlando Health Foundation Board.