NBF Research Symposium
Monday, October 18th
12:15pm – 2:15pm

For almost four decades AABB's National Blood Foundation has infused the transfusion medicine and biotherapies fields with innovative science and pioneering leaders. NBF-funded research helps shape the scientific footprint of AABB's Annual Meeting. This premier scientific showcase brings that science into one program and features the research of a select group of experts who began their careers with NBF funding. AABB and NBF Board members, NBF committee members and prior grant recipients are invited to this exclusive program. The NBF Award for Innovative Research recipient and recently inducted Hall of Fame members will present updates on their research programs. Invitation Only
Use your invitation code to add this exclusive program to your Annual Meeting registration. After adding an NBF event to your meeting registration, the program will be visible to you on your virtual meeting agenda.
NEW! NBF Research & Development (R&D) Summit – 2021
The NBF R&D Summit is a three-part series focused on forward-thinking research discussions that can impact the blood and biotherapies field. Executives, senior leadership, researchers and regulators throughout our community are invited to journey with us as we discover recent investments in innovation throughout the field. The second part of the program will take a peek at a new generation of blood products and innovations in trauma situations. The third segment of the series will discuss the greatest challenges facing the blood and biotherapies field and introduce innovations to address these challenges. Invitation Only
Use your invitation code to add this three-part series to your Annual Meeting registration. After adding an NBF event to your meeting registration, the program will be visible to you on your virtual meeting agenda.
Innovate – The Current State
Sunday, October 17
8:30am – 9:30am
With a mission to change the surface of biotechnology by igniting a revolution to enhance existing and create next-generation products to shape life, join us to learn how a novel innovation will impact various sectors, as well as the blood and biotherapies field. What are the latest discoveries with platelet lysates from outdated platelet concentrates for applications in cell therapy and regenerative medicine? With the development of innovation centers to advance blood and biotherapies, it's time to check in and learn what's front-of-mind for the field.
Blood Center and industry CEOs are invited to hear about cutting-edge biotechnology that can directly impact blood and biotherapies and attendees will learn about current investments in innovation in the field.
An Exploration of Next Generation Blood Products and Innovations
Monday, October 18
8:30am – 9:30am

Since the launch of Sputnik in 1957, the Defense Advanced Research Projects Agency (DARPA) has been making pivotal investments in breakthrough technologies for national security explicitly reaching for transformational change instead of incremental advances. Working within an innovation ecosystem that includes academic, corporate and governmental partners, DARPA creates new strategic opportunities and novel tactical options initiating strategic technological surprises. For decades, this vibrant, interlocking ecosystem of diverse collaborators has proven to be a nurturing environment for the intense creativity that DARPA cultivates.
Blood and Biotherapies executive leaders are invited to hear from two of DARPA's project leads as they take us on a journey through this innovative ecosystem from collaboration among the various entities, to strategies that support decision making and project prioritization, to project management and outcomes. These two projects are, not only future-focused, but can have significant implications for the blood and biotherapies field.
What Is Greatest Challenge Facing the Blood and Biotherapies Field?
Tuesday, October 19
8:30am – 9:30am
The greatest challenges facing blood and biotherapies might keep you up at night, thinking about a critically low blood supply, or shifting workforce dynamics, or minimizing adverse reactions. Sometimes another perspective creates an opportunity. Peering through the lens of research, leading-edge scientific experts in the field who began their research careers with NBF early-stage funding will engage attendees with their opinion about the most significant challenges we face in blood and biotherapies and what innovations are needed to address them.
Event Sponsors: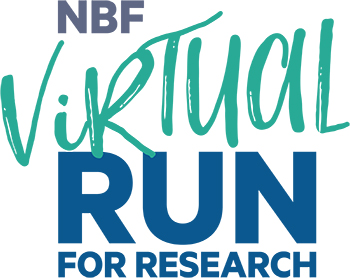 NBF Virtual Run for Research
5K / 1-Mile Walk
Sunday, October 17 – Tuesday, October 19
Help drive innovative research and launch the careers of future leaders in transfusion medicine and biotherapies.
The Run for Research is a virtual 5K run or 1-mile walk; you can complete your run or walk on any day of the AABB Annual Meeting, to be held Oct. 17-19.
$55 registration includes an event t-shirt. Register as an individual or as part of a 5- or 10-member team. Teams will receive discounted registration. Download the RaceJoy app for free live tracking, progress alerts, and automatic time submission.
Although we are distant, we can come together by sharing photos and videos using the #AABB21 hashtag on AABB's social media, Facebook, Twitter, LinkedIn and Instagram. The NBF will recognize individuals with the best running companion and most fun running outfit, in addition to the fastest individuals, fastest 5- and 10-member teams, and the team that raises the most money to support the NBF.
Registration Information:
Register now through October 19 and join in the fun!
$55 (includes official race t-shirt mailed to your address).
Add the Run for Research to your meeting registration or pay separately through RunSignup.
Participants are encouraged to download the RaceJoy app for Free Live Tracking, Progress Alerts, and automatic time submission!
Event Webpage: For more information and to register.
Event Sponsors: