All times are Eastern Time.
Interested in sponsoring an NBF event? Sponsorship opportunities are available that send a clear and focused message that your organization supports innovative research impacting blood and biotherapies.
Reception for Research – a Party with a Purpose!
Friday, September 30
6:00 pm – 8:00 pm
NBF's Party with a Purpose is ideal for networking with colleagues or customers all while supporting a great cause and celebrating NBF's impact. An NBF donation in 2022 is your ticket to attend this fun and informal social event. Details will be provided to donors prior to the AABB Annual Meeting.
NBF Research & Development (R&D) Summit
October 1, 2, and 3
7:00 am - 8:30 am
Registration: $100
Program agenda is TBA.
The NBF R&D Summit is a three-part series focused on forward-thinking research discussions that can impact the blood and biotherapies field. Executives, senior leadership, researchers and regulators throughout our community are invited to join us for the three-part series. Start your Saturday, Sunday and Monday with a stimulating research discussion prior to engaging in the meeting's education sessions.

NBF Run for Research
5K Run / 1-Mile Walk
In Person: Sunday, October 2 at 7:00am ET
Virtual: Saturday – Tuesday on your own time
Help drive innovative research and launch the careers of future leaders in transfusion medicine and biotherapies.
Join hundreds of exercise enthusiasts within the AABB community for the annual Run for Research in support of the National Blood Foundation's mission. The Run for Research offers an exercise opportunity during the AABB Annual Meeting with several options for members to participate. Race your way or race with us!
In Person - Enjoy a brisk jaunt with friends and colleagues on Sunday, October 2nd.
Virtual – Connect with colleagues from safe distance while attending the meeting or from your own city. Log your time any day of the meeting.
Sleep In – Hit the pillow instead of the pavement! Sleep in for research!
In Person:
Registration - $55 (includes a complimentary breakfast.)
Add the in-person event to your Annual Meeting registration or register separately via RunSignUp.
Onsite registration and packet pick up will take place on October 1st, 9:00 am – 5:00 pm at the Orange County Convention Center.
Souvenir t-shirt available for additional $10
The in-person event will take place on October 2nd at 7:00am ET. The race start location is the Hyatt Regency Orlando, 9801 International Dr, Orlando, FL 32819.
*In-person to virtual event transfers accepted before September 15th.
Virtual:
Registration - $50
Add the virtual event to your Annual Meeting registration or register separately via RunSignUp.
Souvenir t-shirt available for additional $10.
Download the RaceJoy app for free live tracking, progress alerts, and automatic time submission.
*Virtual to in-person event transfers accepted before September 15th. After September 15th, those registered for the virtual event CANNOT participate in the in-person event.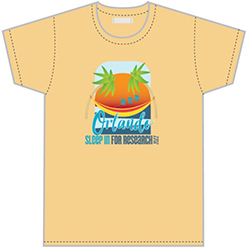 Sleep In:
Registration - $25
Add the in-person event to your Annual Meeting registration.
Pick up your Sleep In for Research t-shirt at the NBF booth in AABB Central.
NBF Research Symposium
Monday, October 3rd
11:30 am – 1:00 pm
Lunch provided.
Program agenda is subject to change.
For almost four decades AABB's National Blood Foundation has infused the transfusion medicine and biotherapies fields with innovative science and pioneering leaders. NBF-funded research helps shape the scientific footprint of AABB's Annual Meeting. This premier scientific showcase brings that science into one program and features the research of a select group of experts who began their careers with NBF funding. AABB and NBF Board members, NBF committee members and prior grant recipients are invited to this exclusive program. The NBF Award for Innovative Research recipient and recently inducted Hall of Fame members will present updates on their research programs. Invitation Only
Use your invitation code to add this exclusive program to your Annual Meeting registration.