Learning Objectives
After participating in this educational activity, participants should be able to:
Identify the difference between sanitization, disinfection, and sterilization.
Discuss the differences between common disinfection choices.
Perform a basic disinfection qualification.
Implement a more robust disinfection quality program.
Program Description
Any scientific laboratory should be clean, but biological laboratories need to more than just 'clean', they need to be free of most, if not all, microorganisms. For BL1 or BL2 laboratories working with human cells or tissues a single bacteria, spore, virus, or fungi can be disastrous from the process at hand. Developing a robust program to minimize the risk of infectious agents in a laboratory can pose a number of challenges. While every lab will have its own unique requirements, from a lab bench, to a biosafety cabinet, to a clean room; each will have some commonalities. This eCast will help new and established laboratory staff make informed decisions on how to best disinfect their laboratory. It's important to understand the terminology uses in the field, the types of disinfectants available, and how to use them correctly. By applying the knowledge from this program, a lab should be able to more effectively drive their risk of infectious agents closer to zero. In short, you will be better able to murder bacteria, viruses, fungi threatening your operation... and get away with it.
Registration
| | | |
| --- | --- | --- |
| | | Program # |
| Single Viewer: On-Demand | Register | 20EL-576-4070 |
| Group Viewing: On-Demand | Register | 20EL-576-8070 |
Continuing Education Credit
AABB designates both the live and on-demand version of this eCast each eligible for 1 continuing education credits/contact hours for General Participation, California Nurse, California Lab Personnel and Florida Lab Personnel. The number and type of credits awarded for this program (both live and on-demand) was determined by the program duration. Please note this program is not eligible for continuing medical education (CME) credit for physicians. For more information on each credit type please visit our Continuing Education Credits webpage.
Disclosures for the planners of this event can be found here. Disclosures for the program faculty are provided at the beginning of the program.
Speaker Biography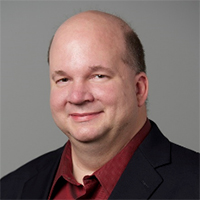 Mr. Polarine is a senior technical service manager at STERIS Corporation. He has been with STERIS Corporation for twenty years. His current technical focus is microbial control in cleanrooms and other critical environments. Mr. Polarine is a 2019 PDA Michael S. Korczynski Award recipient. He has lectured in North America, Europe, Middle East, Asia, and Latin America on issues related to cleaning and disinfection, microbial control in cleanrooms and validation of disinfectants. Mr. Polarine is a frequent industry speaker and published several PDA book chapters and articles related to cleaning and disinfection and contamination control. He is active as co-chair on the PDA's microbial investigations task force. He was a co-author on PDA's Technical Report #70 on Cleaning and Disinfection. Mr. Polarine teaches industry regulators as well as the pharmaceutical, biotech, and medical device industries at the PDA and the University of Tennessee. Mr. Polarine currently teaches the cleaning and disinfection course as part of the PDA Aseptic Processing Course and at the University of Tennessee Parenteral Medications Course. Mr. Polarine is current President for the PDA Missouri Valley Chapter and Technical Coordinator for the IEST. Mr. Polarine graduated from the University of Illinois with a Master of Arts in Biology. He previously worked as a clinical research coordinator with the Department of Veterans Affairs in St. Louis, MO and as a biology and microbiology instructor at the University of Illinois. His main hobby is storm chasing and is very active in tornado research and tornado safety.