Program Description
Blood product inventory relies on a healthy donor population to donate on a frequent basis and blood product usage to remain steady. The COVID19 pandemic of early 2020 paralyzed the United States. Mandated social distancing to reduce the spread of Sars-Cov-2 resulted in widespread cancellation of blood drives nationally. This program will address how one hospital-based transfusion service took measures to combat a sudden inventory shortage at the beginning of the crisis in the United States. This eCast will also discuss ways in which regional and national blood centers took action to continue to collect in the midst of widespread mandated social distancing policies.
Learning Objectives
After participating in this educational activity, participants should be able to:
Detail internal steps that a hospital-based transfusion service may take to manage their inventory when a long-term shortage of products is forecasted.
Detail ways in which the hospital administration can assist the transfusion service when a long-term shortage of blood products is predicted.
Describe steps that a blood center may take to adapt their processes when the threat of a drastic decrease in donations is identified.
Registration
Please note: if you registered for the live eCast you do not need to register for this on-demand eCast (access to the on-demand eCast was included with the live eCast registration).
Continuing Education Credit
AABB designates both the live and on-demand version of this eCast each to be eligible for 1 continuing education credits/contact hours for Physicians, California Nurse, California Lab Personnel, Florida Lab Personnel and General Participation credit. The final number of credit(s) and credit types awarded for this program (live or on-demand) was determined by the program duration. For more information on each credit type please visit our Continuing Education Credits webpage.
Disclosures for the planners of this event can be found here. Disclosures for the program faculty are provided at the beginning of the program.
Speaker Biographies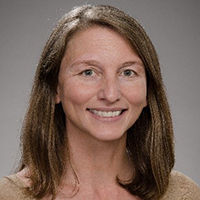 Dr. Pagano is the Medical Director of Transfusion Services and the Associate Program Director of the Pathology Residency Program at the University of Washington. After obtaining her MD degree at the University of Buenos Aires, Dr. Pagano completed her training in Internal Medicine. She then relocated to the US where she joined Dr. Thompson research laboratory at Washington University in St. Louis, MO to study inflammatory mediators. Dr. Pagano first joined the University of Washington as a Laboratory Medicine resident, and then completed her fellowship in Transfusion Medicine at Johns Hopkins University. Dr. Pagano's research interests include clinical transfusion support for patients with complex medical needs, adverse events to transfusion, apheresis practice, and medical education. She serves at several national committees; currently she is the Chair of the Clinical Transfusion Medicine Committee at AABB and is the former chair of the Graduate Medical Education Subcommittee at ASFA. Her primary goals include providing the best possible treatment to benefit each patient, advancing the transfusion medicine field to benefit the community, and educating medical students, laboratory scientists, residents, and fellows in the use of blood and blood products.