Director: Srijana Rajbhandary, MPH, Associate Director, AABB, Bethesda, MD
Moderator: Nancy L. Van Buren, MD, Medical Director, Innovative Blood Resources, division of New York Blood Center, St. Paul, MN
Speakers:
Joseph Cho, MD, PhD, Transfusion Medicine Fellow, Versiti Blood Center of Wisconsin, Milwaukee, WI
Nancy L. Van Buren, MD, Medical Director, Innovative Blood Resources, division of New York Blood Center, St. Paul, Minnesota
Program Description
Ensuring donor safety is of paramount importance to our community. During this program, the speakers will share results from the recently conducted COVID-19 Convalescent Plasma (CCP) Donor Hemovigilance Multicenter Study. The study was conducted to evaluate the safety of CCP donation and to determine whether CCP donors have a higher incidence of donor adverse events (DAE) compared to conventional plasma donors. In addition, the speakers will provide an overview of the responses made by blood centers during the COVID-19 pandemic to ensure donor safety.
Learning Objectives
After participating in this educational activity, participants should be able to:
Describe the most common donor adverse events (DAEs) among blood donors.
Discuss the differences in demographics and DAEs among CCP donors and conventional plasma donors.
Give example(s) of common protocols for donor safety during COVID-19 pandemic.
Registration
Registration includes access to both the live and on-demand version of this eCast.
AABB understands the value of learning together as a group but with COVID-19, bringing everyone together to share the experience in person may not be an option for your team. Given this, all participants in a group will be provided the ability to register as a single viewer (AABB will provide a promocode to registered group viewing coordinators to share with their team in advance of the live program). If you are a facility interested in participating in this eCast, simply complete the Group Viewing registration form and AABB will provide detailed instructions to share with your team. For single viewers, the process has not changed – simply click on the Register button below to register.
Please note: registration for the live eCast will close 1 hour prior to the eCast start time. If you register after this time you will receive access to the on-demand eCast when it is available.
Continuing Education Credit
AABB estimates both the live and on-demand version of this eCast each to be eligible for 1 continuing education credits/contact hours for Physicians, California Nurse, California Lab Personnel, Florida Lab Personnel and General Participation credit. The final number of credit(s) and credit types awarded for this program (live or on-demand) will be determined by the program duration. For more information on each credit type please visit our Continuing Education Credits webpage.
Disclosures for the planners of this event can be found here. Disclosures for the program faculty are provided at the beginning of the program.
Speaker Biographies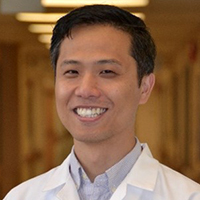 Dr. Joseph Cho is a Transfusion Medicine Blood Banking fellow at Versiti Blood Center of Wisconsin (2020-2021) and a junior member of the AABB Donor Hemovigilance Working Group. Dr. Cho concurrently serves as a junior member of the AABB Circular of Information Task Force. Prior to starting his fellowship training at Versiti, Dr. Cho completed a residency in Clinical Pathology at the University of Chicago. He obtained his medical degree (MD) and PhD in Oncological Sciences at the University of Utah. Dr. Cho's research interests include donor hemovigilance, platelet function testing and inherited platelet-based bleeding disorders. In his free time, he enjoys hiking, biking, and traveling with his wife Susie.
Dr. Nancy Van Buren is chair of the AABB Donor Hemovigilance Working Group, which developed the COVID-19 Convalescent Plasma Donor Hemovigilance Study co-lead by Dr. Joseph Cho. During her participation on the Donor Reaction Severity subcommittee, she assisted with the development of standardized donor reaction definitions. She is Medical Director and CLIA Laboratory Director for Innovative Blood Resources (including Memorial blood Centers and Nebraska Community Blood Bank) and Associate Medical Director for Community Blood Center of Greater Kansas City, which are divisions of New York Blood Center Enterprises. She also serves as Transfusion Services co-Medical Director at Children's Hospitals of Minnesota and Hennepin Healthcare - HCMC. She has been involved in many facets of transfusion medicine throughout her career and serves on multiple AABB committees. Her areas of interest include donor hemovigilance, the donor screening process and infectious disease testing, immunohematology, and transfusion safety and appropriateness.