Director/Moderator: Laura Nelson MLS(ASCP)SBBcm, Testing Services Supervisor II, LifeServe Blood Center, Des Moines, IA
Speaker: Sue Johnson, MSTM, MT(ASCP)SBBCM, Director, Clinical Education, Versiti, Director, Transfusion Medicine Program, Marquette University, Milwaukee, WI
Program Description
Immune hemolytic anemia (IHA) is rarely drug-induced, therefore when it is caused by a drug-dependent antibody, laboratories and clinicians can struggle with identifying the issue. This boot camp will further the participant's understanding of drug-induced immune hemolytic anemia (DIIHA), and how to identify a patient possibly experiencing this type of hemolytic anemia. DIIHA can mimic warm and cold autoantibodies so a discussion of the serologic findings and clinical information needed to differentiate them will be included. This program will also review different drugs known cause DIIHA and the importance of reviewing timing and dosage to further educate blood bankers/medical laboratory scientists and clinicians on what to look for in a patient medication history.
Learning Objectives
After participating in this educational activity, participants should be able to:
Describe the different categories of drug-induced immune hemolytic anemia (DIIHA).
List the most common drugs causing DIIHA.
Describe the serologic findings of DIIHA in the laboratory.
Distinguish drug-dependent antibodies from warm or cold autoantibodies.
Describe the current testing methodologies available for identifying drug-dependent antibodies causing DIIHA.
Registration
Registration includes access to both the live and on-demand version of this eCast.
AABB understands the value of learning together as a group but with COVID-19, bringing everyone together to share the experience in person may not be an option for your team. Given this, all participants in a group will be provided the ability to register as a single viewer (AABB will provide a promocode to registered group viewing coordinators to share with their team in advance of the live program). If you are a facility interested in participating in this eCast, simply complete the Group Viewing registration form and AABB will provide detailed instructions to share with your team. For single viewers, the process has not changed – simply click on the Register button below to register.
Please note: registration for the live eCast will close 1 hour prior to the eCast start time. If you register after this time you will receive access to the on-demand eCast when it is available.
Continuing Education Credit
AABB estimates both the live and on-demand version of this eCast each to be eligible for 1 continuing education credits/contact hours for Physicians, California Nurse, California Lab Personnel, Florida Lab Personnel and General Participation credit. The final number of credit(s) and credit types awarded for this program (live or on-demand) will be determined by the program duration. For more information on each credit type please visit our Continuing Education Credits webpage.
Disclosures for the planners of this event can be found here. Disclosures for the program faculty are provided at the beginning of the program.
Speaker Biography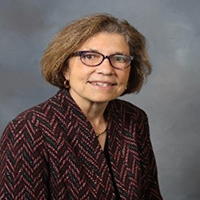 Susan T. Johnson, MSTM, MT(ASCP)SBBCM is Director of Clinical Education at Versiti and Director of the Transfusion Medicine Program at Marquette University and Associate Director of the Indian Immunohematology Initiative. Prior to this, she worked in the Immunohematology Reference laboratory for 25 years, developing a special interest in autoimmune hemolytic anemia, particularly drug-induced immune hemolytic anemia. Sue Johnson received her undergraduate degree in Medical Technology at the University of Wisconsin-Madison, attended the Specialist in Blood Bank Technology program at the American Red Cross Blood Service-Badger Region in 1982 and earned her master's degree in Transfusion Medicine at Marquette University in 2001. Ms. Johnson has authored numerous publications in the field of Transfusion Medicine, most recently associate editor of the 20th ed. of the Technical Manual & Blood Banker Favorites: A Collection of Best Recipes for Blood Sample Preparation.