Director/Moderator: David Unold, MD, Associate Medical Director of Transfusion Services, UC Davis Medical Center/School of Medicine, Sacramento, CA
Speaker: Sarah Barnhard, MD, Medical Director of Transfusion Services, Secretary of Staff. Department of Pathology and Laboratory Medicine, University of California at Davis, Davis, CA
Program Description
Blood bank personnel and leadership may find it difficult to engage with hospital administration to communicate needs or challenges. This program will introduce the knowledge needed to successfully communicate transfusion medicine topics to hospital administrators. Given as a didactic presentation, Dr. Barnhard will draw on her experience of engagement with upper levels of hospital administration to introduce key concepts in this topic.
Learning Objectives
After participating in this educational activity, participants should be able to:
Compare and contrast the key perspectives of hospital administrators and transfusion medicine experts.
Outline the key elements and indicators of horizontal and vertical alignment in hospital-based transfusion medicine.
Identity and engage the key clinical stakeholders in hospital-based transfusion medicine.
Identify natural allies in hospital-based transfusion medicine.
Outline the approach to communicating with levels of hospital administration.
Registration
Registration includes access to both the live and on-demand version of this eCast.
AABB understands the value of learning together as a group but with COVID-19, bringing everyone together to share the experience in person may not be an option for your team. Given this, all participants in a group will be provided the ability to register as a single viewer (AABB will provide a promocode to registered group viewing coordinators to share with their team in advance of the live program). If you are a facility interested in participating in this eCast, simply complete the Group Viewing registration form and AABB will provide detailed instructions to share with your team. For single viewers, the process has not changed – simply click on the Register button below to register.
Please note: registration for the live eCast will close 1 hour prior to the eCast start time. If you register after this time you will receive access to the on-demand eCast when it is available.
Continuing Education Credit
AABB estimates both the live and on-demand version of this eCast each to be eligible for 1 continuing education credits/contact hours for Physicians, California Nurse, California Lab Personnel, Florida Lab Personnel and General Participation credit. The final number of credit(s) and credit types awarded for this program (live or on-demand) will be determined by the program duration. For more information on each credit type please visit our Continuing Education Credits webpage.
Disclosures for the planners of this event can be found here. Disclosures for the program faculty are provided at the beginning of the program.
Speaker Biography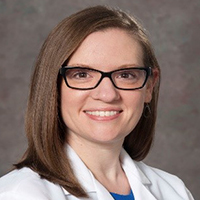 As a subspecialty pathologist in transfusion services, Dr. Sarah Barnhard serves as Medical Director of Transfusion Services at UC Davis Medical Center where she also serves as Secretary of Staff. She devotes her clinical time to overseeing the blood bank and treating patients on the apheresis service. She teaches medical students, residents, and fellows in all aspects of transfusion medicine and is highly integrated with hospital quality and safety.