Please note: AABB reserves the right to make updates to this program.
Live Program Dates: Tuesday, March 31, Thursday, April 2, Tuesday, April 7 & Thursday, April 9, 2020 - On-Demand Available
On-Demand eCast Series Registration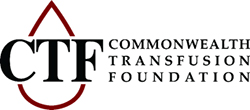 This eCast series is provided complimentary through the generous support of Commonwealth Transfusion Foundation. Registration is required and includes access to all the on-demand eCasts in the series. After registering, immediate access is granted via the AABB Education Platform (after logging in using your AABB username and password, simply click on "My Learning Programs" and then "On-Demand eCasts"). Please note: if you registered for the live eCasts you do not need to register for this on-demand series (access to the on-demand eCasts was included with the live eCast registration).
Educational Track: Technical/Clinical
Topic: Transfusion Medicine
Intended Audience: Donor Recruiter, Hospitals, Hospital Blood Banks, Lab Personnel, Medical Directors, Nurses, Physicians, Research Scientists, Residents/Fellows, Scientists, Students (MD, MT, SBB), Technologists, Transfusion Safety Officers and Coordinators
Teaching Level: Basic to Intermediate
Program Description
The 2019 Novel Coronavirus (COVID-19) pandemic is having a devastating impact on the U.S. blood supply. To assist blood center and hospital employees navigate their most pressing challenges, AABB is offering this education series featuring four, virtual town hall lectures on managing collections, operations, and inventory during the pandemic. Each 30-minute lecture will be followed by a 30-minute question and answer period and attendees will receive supportive resources (e.g., tools, fact sheets).
Town hall programs included:
March 31, 2020: Prepare to Adapt: The Washington State Experience (On-Demand Available)
Speaker: Monica Pagano, MD, Medical Director of the Transfusion Service Laboratory, University of Washington Medical Center
Panelist: Kirsten Alcorn, MD, Medical Director of Blood Services, Bloodworks Northwest
Moderator: Jed Gorlin, MD, MBA, Innovative Blood Resources , Medical Director and Vice President, Quality and Regulatory Affairs

Based on the recently published TRANSFUSION Journal paper outlining Washington State's experience, Dr. Monica Pagano will recap and expand upon the experience of the first four weeks of the COVID-19 outbreak in Washington State. As the number of confirmed positive cases rapidly increased, the practices of blood suppliers and hospitals transformed to respond to reduced blood donations, prospectively triage blood orders to monitor and prioritize blood utilization among hospital transfusion services, and postpone elective procedures to ensure staff and personal protective equipment were appropriate for the care of critical patients. This eCast sets the stage for the next three in the series, which will dive into the topics of effectively managing collections, inventory, and operations during these challenging times.

April 2, 2020: Collection Considerations During the COVID-19 Pandemic (On-Demand Available)
Speakers: Ralph Vassallo, MD, EVP/Chief Medical & Scientific Officer, Vitalant; Pampee Young, MD, PhD, Chief Medical Officer, American Red Cross; Sharon Carayiannis, MT(ASCP)HP, Senior Director, Regulatory Affairs, AABB
Moderator: Jed Gorlin, MD, MBA, Innovative Blood Resources, Medical Director and Vice President, Quality and Regulatory Affairs

The COVID-19 pandemic has had a tremendous impact on blood collection. By late March, blood collection was down an estimated 30-40% as compared to the same time in the previous year. In this eCast, Dr. Ralph Vassallo and Dr. Pampee Young will address the changing landscape of blood collections and measures that can be taken to improve donor safety and adequacy of the blood supply. Topics that will be addressed include building donor confidence, enhanced safety measures, infection control, maximizing collection, and methods and strategies for social distancing within the center.

April 7, 2020: Managing Blood Inventory During the COVID-19 Pandemic (On-Demand Available)
Speakers: Claudia Cohn, MD, PhD, Director, Blood Bank Laboratory, University of Minnesota; Steven Frank, MD, Medical Director, Bloodless Medicine and Surgery Program, Johns Hopkins Hospital
Moderator: Barbara J. Bryant, MD, MT(ASCP)SBB, Adjunct Professor, University of Texas Medical Branch

Utilization practices among hospitals are evolving to appropriately care for patients during the COVID-19 pandemic. Effectively managing the transfusion service resources and communicating with clinicians is more important than ever. Join Dr. Claudia Cohen as she discusses these important topics along with Dr. Steven Frank who will highlight patient blood management practices that can be implemented to conserve blood resources as appropriate.

April 9, 2020: Managing Operations and Facilities During the COVID-19 Pandemic (On-Demand Available)
Speakers: Nancy Dunbar, MD, Associate Professor of Pathology and Laboratory Medicine, Geisel School of Medicine, Dartmouth-Hitchcock Health; Ruth Sylvester, Director, Regulatory Services, America's Blood Centers
Moderator: Barbara J. Bryant, MD, MT(ASCP)SBB, Adjunct Professor, University of Texas Medical Branch

The ongoing operations of facilities have been and will continue to be strained as result of the COVID-19 pandemic. Join Dr. Nancy Dunbar and Ms. Ruth Sylvester as they discuss challenges related to continuity of operations, staffing, and infection control in both the hospital and blood center during these trying times.
Continuing Education Credit
AABB designates both the live and on-demand version of each eCast in the series is eligible for 1 continuing education credits/contact hours for Physicians, California Nurse, California Lab Personnel, Florida Lab Personnel and General Participation credit. The number and type of credits awarded for each eCast in this series (both live and on-demand) was determined by the program duration of each eCast in the series. For more information on each credit type please visit our Continuing Education Credits webpage. Access the AABB Education Platform (once logged in click My Learning Programs then choose Live eCasts) to claim credits for live eCasts you attended.
Program planners include Sharon Carayiannis, Kelly Meyer, Jackie Thomas and Catherine Williams. The program planners do not have anything to disclose. Disclosures for the program faculty are provided at the beginning of each eCast.