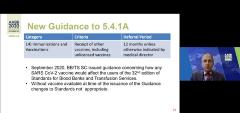 This year's "Ask the Standards" session, available on-demand, brought together a group of four first-time Standards Committee chairs to discuss new and changed standards, explain the standard-setting cycle and answer questions submitted in advance. As always, the session offers audience members a richer understanding of the standards than what might be gained from simply reading the standards themselves.
The experts were:
Brenda A. Alder, MS, MT(ASCP)SBB, Northside Hospital, Standards for Cellular Therapy Services (CT Standards)
Gregory Denomme, PhD, FCSMLS(D), Versiti, Standards for Molecular Testing for Red Cell, Platelet and Neutrophil Antigens (MT Standards)
Richard Gammon, MD, Oneblood Inc., Standards for Blood Banks and Transfusion Services (BB/TS Standards)
Theresa Stec, BA, MT(ASCP), Baystate Medical Center, Standards for Perioperative Autologous Blood Collection and Administration (Perioperative Standards)
What's New, What's Changed
The 10th edition of CT Standards is currently in process and has not yet been finalized; however, Alder noted that the changes discussed "are mostly likely going to remain and that's based on public feedback received so far." She reviewed changes to 11 standards, along with two new standards and a new reference standard.
The 5th edition of MT Standards was released earlier this year. Denomme covered this edition's changes to four standards and two reference standards, as well as the inclusion of 10 completely new standards.
The 9th edition of Perioperative Standards was also released this year. Stec reviewed changes to 18 existing standards and the three new standards added to this edition.
BB/TS and SARS-CoV-2
The 32nd edition of BB/TS Standards, also released this year, includes one new standard and changes to six existing standards and two reference standards. New guidance was also given for Standard 5.14.5 (Pretransfusion Testing for Allogeneic Transfusion of Whole Blood, Red Blood Cell, and Granulocyte Components). Gammon answered nine questions submitted about this standard.
Gammon discussed the updated donor deferral guidance issued by the Food and Drug Administration (FDA) in April, directly affecting deferral periods for allogeneic donors. Deferral periods were shortened to allow more individuals to donate and ensure a strong blood supply during the pandemic. This led to the BB/TS Standards Committee (BB/TS SC) and AABB issuing Association Bulletin 20-03 ("Emergent Standards to the 31st and 32nd editions of Standards for Blood Banks and Transfusion Services"). He reviewed the deferral changes covered in this Bulletin, which is available here.
Regarding new guidance to Reference Standard 5.4.1A, #14 ("Immunizations and Vaccinations"), last month the BB/TS SC issued guidance concerning how a SARS-CoV-2 vaccine would affect the users of the 32nd edition of BB/TS Standards. Without a vaccine available at the time of the guidance's issue, changes to BB/TS Standards were not deemed appropriate. However, a guidance was issued in form of questions and answers:
When the SARS CoV-2 vaccine(s) become(s) available under investigational new drug applications, what is the deferral period for potential donors?
Reference Standard 5.4.1A (14) for unlicensed vaccines requires a 12-month deferral but allows a blood center's medical director discretion to implement a shorter or longer deferral period. The BB/TS Standards Committee, based upon communications with FDA, is of the opinion that medical directors can consider a shorter deferral period (as short as 14 days from inoculation) for live attenuated vaccines as indicated in the reference standard. The BB/TS SC, in communication with FDA, also agreed that no deferral is necessary for blood donors who received non-replicating, inactivated or RNA-based vaccines or the mRNA-1273 Moderna vaccine.
Can individuals who have received the SARS CoV-2 vaccine donate COVID-19 convalescent plasma (CCP)?
No. At this time the BB/TS SC, based on feedback from FDA, does not feel that it would be acceptable for the individual to donate CCP. This is based on the unknowns surrounding the antibody profile of donors who have received the SARS CoV-2 vaccine and CCP product efficacy.
Can individuals who have recovered from SARS CoV-2 and received CCP donate blood and CCP?
Yes. However, because CCP is a blood component, they would be deferred for three months from the date of the last transfusion per BB/TS Reference Standard 5.4.1A(12).
This session, AM20-67, will remain available on-demand to Annual Meeting registrants through November 4. A transcript of the session will be available later this year.