Thomas Spitzer Joins AABB Board of Directors as CTSCC Chair
November 23, 2020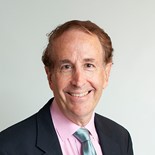 Thomas Spitzer, MD, will join the 2020-21 AABB Board of Directors following his recent election as chair of the Cellular Therapies Section Coordinating Committee (CTSCC). Spitzer is the director emeritus of the Bone Marrow Transplant Program at the Massachusetts General Hospital and a professor of Medicine at Harvard Medical School. His academic interests include the development of novel strategies for performing stem cell transplants across HLA barriers and for the induction of specific tolerance for organ transplantation.
Spitzer has been an AABB member since 2014 and a member of the CTSCC since 2018. Since joining AABB, he has served as a program chair and speaker in numerous AABB education programs and at AABB's Annual Meeting, addressing stem cell migration, haploidentical stem cell transplantation, chimeric antigen receptor (CAR) T-cell therapy, and natural killer cell generation and novel applications.
Spitzer will fill the vacancy on the Board left by Deborah Sesok-Pizzini, MD, MBA.