If you are interested in learning more about AABB's advertising and sponsorship opportunities, or to secure an opportunity, please submit a request form or contact Margie Boraz (mboraz@aabb.org).
For opportunities specifically related to the AABB Annual Meeting, please visit our meeting site.
AABB Media Kit (PDF)
Download for additional details and pricing.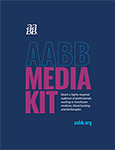 Featured Opportunities
Educational Sponsored eCast
Sponsorship of a one-hour educational webinar on an important or hot topic in the field. AABB eCasts offer sponsors high visibility to a targeted and engaged audience. All programs include sponsor recognition on all marketing initiatives, to an audience of more than 18,000 professionals.
Virtual Innovation Theater
Sponsorship offers a company the unique opportunity to provide live education about their products and solutions. Sponsor will present its product during a live 60-minute webinar including a Q&A period All programs include sponsor recognition on all marketing initiatives, to an audience of more than 18,000 professionals.
AABB Weekly Report and COVID-19 Highlights Newsletters
AABB Weekly Report is AABB's weekly member newsletter highlighting top stories from the AABB Newsfeed. COVID-19 Highlights is a nonmember newsletter providing COVID-19 related content. Together, these newsletters offer advertisers access to an engaged and targeted audience of 16,900 health care professionals in transfusion medicine and biotherapies.
AABB News
Published 11 times per year, the association's magazine provides an insightful look at critical issues affecting the transfusion medicine and biotherapies community.
AABB SmartBrief
AABB SmartBrief is a daily email providing updates on the latest news in transfusion medicine and cellular therapies. With about 9,000 subscribers, AABB SmartBrief provides an opportunity to keep your brand top-of-mind for a large and influential audience.
TRANSFUSION Journal
TRANSFUSION is AABB's scholarly, peer-reviewed monthly journal, publishing the latest technological advances, clinical research, and controversial issues related to transfusion medicine, cellular and gene therapies, and tissue transplantation. Each issue addresses topics such as clinical transfusion, immunology, genetics, cellular therapy, and hematology. In addition to a supplement containing AABB Annual Meeting abstracts, other supplements focus on key conference proceedings and single-topic content not readily available elsewhere. TRANSFUSION is free to all AABB members.