If you are interested in learning more about AABB's advertising and sponsorship opportunities, or to secure an opportunity, please contact Margie Boraz (mboraz@aabb.org).
For opportunities specifically related to the AABB Annual Meeting, please visit our meeting site.
2020 AABB Media Kit (PDF)
Download for additional details and pricing.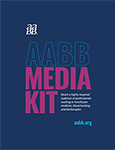 Sponsorship Opporunities
Educational Sponsored eCast
Sponsorship of a one-hour educational webinar on an important or hot topic in the field. AABB eCasts offer sponsors high visibility to a targeted and engaged audience. All programs include sponsor recognition on all marketing initiatives, to an audience of more than 18,000 professionals.
Virtual Innovation Theater
Sponsorship offers a company the unique opportunity to provide live education about their products and solutions. Sponsor will present its product during a live 60-minute webinar including a Q&A period All programs include sponsor recognition on all marketing initiatives, to an audience of more than 18,000 professionals.
AABB COVID-19 Weekly Hospital Transfusion Services Survey
The AABB Research Department is conducting weekly hospital surveys during the COVID-19 pandemic. The survey goes out to over 850 hospitals on Mondays, with results posted in AABB's Weekly Report and COVID-19 Highlights newsletters on Fridays. This is an exclusive opportunity for a sponsor wanting to reach this valuable targeted market.
Advertising Opportunities
AABB Weekly Report and COVID-19 Highlights Newsletters
AABB Weekly Report is AABB's weekly, member newsletter providing the latest regulatory developments, breaking research, reports from key meetings, association news and more. COVID-19 Highlights is a new, nonmember newsletter providing COVID-19 related content from Weekly Report to the transfusion medicine and biotherapies community. Weekly Report newsletters offer advertisers access to an engaged and targeted audience of 16,900 health care professionals in transfusion medicine and biotherapies.
AABB News
Published 11 times per year, the association's magazine provides an insightful look at critical issues affecting the transfusion medicine, cellular therapy and patient blood management community.
AABB SmartBrief
AABB SmartBrief is a daily email providing updates on the latest news in transfusion medicine and cellular therapies. With about 9,000 subscribers, AABB SmartBrief provides an opportunity to keep your brand top-of-mind for a large and influential audience.
TRANSFUSION
TRANSFUSION is AABB's scholarly, peer-reviewed monthly journal, publishing the latest technological advances, clinical research, and controversial issues related to transfusion medicine, cellular and gene therapies, and tissue transplantation. Each issue addresses topics such as clinical transfusion, immunology, genetics, cellular therapy, and hematology. In addition to a supplement containing AABB Annual Meeting abstracts, other supplements focus on key conference proceedings and single-topic content not readily available elsewhere. TRANSFUSION is free to all AABB members.
AABB Website
Skyscraper and button ads offer an excellent visual opportunity for your company, product or service. AABB's website maintains an active user base with high duration time per unique visitor. Placing your ad on AABB's many venues gives you the opportunity to reinforce your band and build traffic to your site. Your ad will rotate on pages, except pages with continuing medical education (CME) information and/or content or other pages not approved by AABB.
AABB CareerLink
The CareerLink job board from AABB is the premier portal to find hundreds of qualified healthcare professionals that have specific experience in blood banking, transfusion medicine, patient blood management and cellular therapies. CareerLink brings together the best people with the best opportunities.