Virtual Journal Club
Join the AABB community on Twitter to discuss recent peer-reviewed, scientific journal articles on important topics in transfusion medicine and biotherapies. Every other month, a group of presenters will discuss in depth an article from Transfusion. Journal clubs are held on Twitter via the hashtag #AABBjc.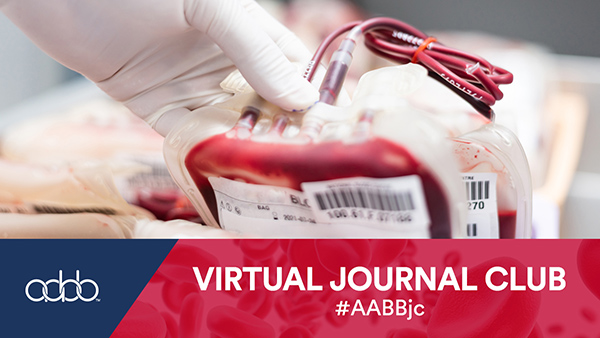 Upcoming
Past

Article: "Fellowship training programs in blood banking/transfusion medicine in the United States, 2016–2020"
Dates: 9 pm ET on Tuesday, March 22, 2022, and 10 a.m. ET on Wednesday, March 23, 2022
Moderators: Aaron D. Shmookler, MD, QIACM, (@AShmooklerMD) andChloe Thompson, MLS(ASCP)CM CQA(ASQ), (@chloeirena)
Hashtag: #AABBjc
March 2022 Journal Club Transcript
Article: "Antibody incidence and red blood cell transfusions in patients on daratumumab"
Dates: Tuesday, Dec. 14, 2021, and Wednesday, Dec. 15, 2021
Moderators: Daniela Hermelin, MD, (@HermelinMD) and John Sherbeck, MD, (@TeamCaptainJohn)
Hashtag: #AABBjc
Article: "Plasma as a resuscitation fluid for volume-depleted shock: Potential benefits and risks"
Dates:
Tuesday, July 20, 2021, and Wednesday, July 21, 2021
Moderators: Maria Roussakis, MLT, MSc (@medlabmaria) and Chloe Thompson, MLS(ASCP) (@chloeirena)
Hashtag: #AABBjc
AABB Twitter Chat Series
AABB is hosting a series of Twitter chats for professionals in the fields of transfusion medicine, cellular therapies and patient blood management. Sponsored by the AABB Professional Engagement Program, each Twitter chat features an AABB member leading a lively discussion on current topics. These Twitter chats provide a unique opportunity to connect with an expert in the field.
To learn more about how Twitter is connecting the blood banking community, see this article from AABB News.
Follow @AABB and use the hashtag #AABBPEPtalk to participate in the conversation on Twitter.
Upcoming
Past

Convalescent Plasma Collection During the COVID-19 Pandemic
Beth Shaz, MD, @BethShaz
Claudia Cohn, MD, PhD, @cohn_md
Administration of convalescent plasma from individuals who have recovered from COVID-19 may improve the clinical status of critically ill patients with COVID-19. In the next #AABBPEPtalk, Beth Shaz, MD, and Claudia Cohn, MD, PhD, led a discussion and answered questions on strategies and recommendations regarding the collection and transfusion of convalescent plasma for this purpose.
Beth Shaz, MD, is AABB President. Shaz is also the executive vice president and chief medical and scientific officer at the New York Blood Center (NYBC) in New York. She is responsible for all medical and scientific activities throughout the NYBC enterprises, including the Lindsey F. Kimball Research Institute, hemophilia service, transfusion services, cellular therapy, perioperative autologous transfusion and clinical apheresis. Additionally, she is leading NYBC's Comprehensive Cell Solutions, which focuses on facilitating the next generation of cures in transfusion medicine and cell therapy.
Claudia Cohn, MD, PhD, is Chief Medical Officer at AABB. Cohn is also an associate professor in the Department of Laboratory Medicine and Pathology, associate director of Laboratories, associate director of the HLA Lab and director of the Blood Bank Laboratory at the University of Minnesota Medical School.
COVID-19 Convalescent Plasma Twitter Chat Script
This Twitter chat was presented through the generous support of Cerus Corp.
32nd Edition of BBTS Standards Decoded
Richard Gammon, MD, @RichardGammonMD
Christopher Bocquet, @ChrisBocPro

AABB has been developing Standards that promote patient and donor safety in different areas since 1957. Each of these Standards, which are developed by a volunteer committee of experts, are updated every two years. The 32nd edition of AABB's Blood Bank and Transfusion Standards will become effective on April 1, 2020. In our next #AABBPEPtalk, Richard R. Gammon, MD, chair of AABB's Standards Committee, and Chris Bocquet, our director of Standards Development, will help decode the newest edition of Standards.
Richard R. Gammon is Chair of AABB's Standards Committee and Patient Blood Management Committee. He is also Medical Director for OneBlood and Transfusion Medicine Specialist; Assistant Professor of Pathology for the University of Central Florida College of Medicine; and a Clinical Associate Professor of Pathology at NOVA Southeastern University College of Allopathic Medicine.
Christopher Bocquet is the Director of Standards Development at AABB and serves as the primary staff liaison to all AABB Standards Committees. He also coordinates the Transfusion Medicine Subsection Coordinating Committee and the Global Transfusion Forum.
BB/TS Standards Twitter Chat Transcript

Advancing the Efficient and Timely Supply of Blood with Electronic Remote Blood Issue (ERBI)
Mike F. Murphy
@MurphyProf
The transfusion medicine community always strives to find ways to ensure that blood gets to patients in need of transfusion as safely and as quickly as possible. Electronic Remote Blood Issue (ERBI) – which entails the controlled issue of blood at remote locations away from the blood bank – has been shown to promote the efficient and timely supply of blood, as well as reducing staff time and costs. In a AABB/TRANSFUSION Twitter chat, Mike F. Murphy, MD, FRCP, FRCPath, FFPath, led a discussion on the enhancements and challenges linked to ERBI.
Mike Murphy (AABB President; Professor of Transfusion Medicine, University of Oxford; Consultant Haematologist, NHS Blood & Transplant and Oxford University Hospitals) and his team developed and implemented ERBI throughout the Oxford hospitals (published in Transfusion 2008; 48: 415-24). In an article published in the May issue of Transfusion, Murphy et al collected data on how ERBI had been implemented in five hospitals in England, Wales and the United States.
In a video clip in TRANSFUSION, Murphy and his team demonstrate ERBI which allows rapid access to blood, reduces staff time required in the blood bank to issue blood and transport time to and from the blood bank, and eliminates error in the collection of blood units.
Bringing Laboratory Professionals Out of the Shadows of Health Care
Dana Bostic, MBA, MSHS, MLS(ASCP)
@ThatLabChick

Medical laboratory professionals are unsung heroes who, despite saving lives every day, often remain in the backstage of health care. Marking Medical Laboratory Professionals Week, Dana Bostic, MBA, MSHS, MLS(ASCP), facilitated an AABB Twitter chat on how hospital laboratories are an untapped tool for patient engagement.
Dana Bostic is a Clinical Assistant Professor at the University of Kansas Medical Center. Bostic believes that lab professionals need to make themselves more visible to help patients and other clinicians make informed decisions regarding transfusion and other medical procedures. She is an advocate for better communication among health care professionals as a way to improve patient outcomes. Additionally, Bostic is actively involved in simulation/interprofessional education activities.
Lab Week Twitter Chat Transcript

Patient Identification: A Cornerstone of Transfusion Safety
Richard M. Kaufman, MD, @RichardMKaufman
Jeannie Callum, MD, FRCPC, @JeannieCallum

Patient identification is a fundamental component of transfusion safety. In an AABB/TRANSFUSION Twitter chat, Richard M. Kaufman, MD, and Jeannie Callum, MD, FRCPC, led a discussion on strategies to prevent errors leading to ABO mistransfusion. Kaufman recently co-authored a study on pretransfusion sample labeling that found that using electronic patient identification at the time of sample collection was associated with five-fold fewer wrong-blood-in-tube errors compared with traditional manual patient identification. Callum's current research focuses on the implementation of positive patient identification (mobile handheld computers) for transfusion to reduce the risk of acute hemolytic transfusion reactions.
Richard M. Kaufman is editor-in-chief of AABB's peer-reviewed journal TRANSFUSION. He is also the Medical Director of Brigham and Women's Hospital Adult Transfusion Service, and associate professor of Pathology at Harvard Medical School.
Jeannie Callum is a Transfusion Medicine Specialist and Hematologist at Sunnybrook Health Sciences Center in Toronto, and associate professor of the Department of Laboratory Medicine and Pathobiology at the University of Toronto.
"Mastering the DHQ"
Eduardo Nunes
Vice President, Quality Systems, Standards, and Accreditation, AABB
@theEduardoNunes
The Blood Donor History Questionnaire (DHQ) is designed to assist blood centers in evaluating each individual's eligibility to donate based on current AABB Standards and FDA regulations and recommendations. During AABB's January 29 #AABBPEPtalk, Eduardo Nunes, AABB's Vice President, Quality Systems, Standards, and Accreditation, led a discussion on deferral criteria, donor identification and other topics, and shared resources you can use to master the DHQ.
"Physician Onboarding: What's PBM Got To Do With It?"
Justin D. Kreuter, MD
Medical Director, Blood Donor Center, Mayo Clinic
@KreuterMD
Patient blood management (PBM) can be beneficial for patients and hospitals. Many facilities have implemented PBM programs in recent years. Like any good process, PBM tends to be ongoing and iterative. How are new physicians made aware of institutional PBM practices? Is the process similar for newly-minted physicians, as well as new hires? During AABB's July 24 #AABBPEPtalk, Justin D. Kreuter, MD, Medical Director, Blood Donor Center, Mayo Clinic, led the discussion on our community's diverse experiences with onboarding new physicians in the local PBM practice.
New Physician Orientation: What's PBM Got to Do With It? - An Outline by Daniela Hermelin, MD, Transfusion Medicine Fellow at Saint Louis University.
"Antibody Detection, All-A-Twitter"
Sue T. Johnson, MSTM, MT(ASCP)SBB
Director of Clinical Education, BloodCenter of Wisconsin
@SueTJohnson
AABB hosted its inaugural Twitter chat, featuring Sue T. Johnson, MSTM, MT(ASCP)SBB, Director of Clinical Education at BloodCenter of Wisconsin and Ambassador of AABB's Professional Engagement Program (PEP), on April 5, 2018. In this #AABBPEPtalk, "Antibody Detection, All-A-Twitter," Sue T. Johnson led a discussion on the challenges blood bankers face in antibody detection and identification.