Director: Kerry O'Brien, MD, Medical Director of Blood Bank, Blood Bank/Transfusion Medicine Fellowship Program Director, Beth Israel Deaconess Medical Center, Boston, MA
Moderator: Samantha Clem, MS, MLS(ASCP)SBB, Immunohematology Reference Laboratory Supervisor, American Red Cross, Indiana-Ohio Region, Fort Wayne, IN
Speaker:
Susan T. Johnson, MSTM, MT(ASCP)SBBCM, Director of Clinical Education for the Specialist in Blood Banking (SBB) Program, Versiti Blood Center of Wisconsin, Milwaukee, WI
Program Description
The speaker will discuss initial serologic findings that laboratory scientists may face when patients present with warm autoimmune hemolytic anemia (WAIHA) and review subsequent testing necessary to ensure the best possible transfusion possible when required. Finally, the role of blood transfusion and current approaches for compatibility testing will be included.
Learning Objectives
After participating in this educational activity, participants should be able to:
Describe serologic findings that are consistent with warm autoimmune hemolytic anemia.
Discuss adsorption techniques using autologous and allogeneic RBCs for the detection of alloantibodies underlying warm autoantibodies.
Describe different approaches for compatibility testing in patients with warm autoantibody.
Explain the role of blood transfusion in patients with warm autoimmune hemolytic anemia.
Registration
Registration includes access to both the live and on-demand version of this eCast.
If you are a facility interested in participating in this eCast, simply complete the Group Viewing registration form and AABB will provide detailed instructions to share with your team approximately one week prior to the live program (each team member to register for the program utilizing a promocode). For single viewers, simply click on the Register button below to register.
Please note: registration for the live eCast will close 1 hour prior to the eCast start time. If you register after this time you will receive access to the on-demand eCast when it is available.
Continuing Education Credit
AABB estimates both the live and on-demand version of this eCast each to be eligible for 1 continuing education credits/contact hours for Physicians, California Nurse, California Lab Personnel, Florida Lab Personnel and General Participation credit. The final number of credit(s) and credit types awarded for this program (live or on-demand) will be determined by the program duration. For more information on each credit type please visit our Continuing Education Credits webpage.
Disclosures for the planners of this event can be found here. Disclosures for the program faculty are provided at the beginning of the program.
Speaker Biography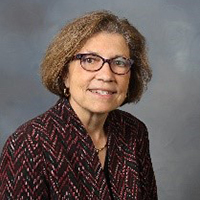 Sue Johnson has taken an active role in the education of Medical Laboratory Science students for more than 20 years. Her experience includes roles as the Director and Adjunct Associate Professor at Marquette University Graduate School's Transfusion Medicine Program, the Clinical Associate Professor at University of Wisconsin-Milwaukee, College of Health Science, and the Associate Director of Indian Immunohematology Initiative. Sue has also authored numerous publications in the field of Transfusion Medicine and Immunohematology and is an established lecturer on a national and international basis on the topic of Immunohematology. She is a member of the Invitational Conference of Investigative Immunohematologists (ICII). She has been an active member of AABB for more than 25 years. She served on the Board of Directors and as Chair of the organization's Membership & Elections Committee and Immunohematology Reference Laboratory Accreditation Program Unit. Sue currently sits on the AABB Publications Committee.