Program Description
Highs and lows: the possibilities are endless! Get tips from Immunohematology veterans on how to best approach the identification of these tricky antibodies, gain background knowledge on some of the more common examples, and identify transfusion challenges associated with these antibodies. This program will feature guided case studies and an informative presentation.
Learning Objectives
After participating in this educational activity, participants should be able to:
Recognize common antigens associated with antibodies to low/high frequency antigens.
Identify methods to differentiate antibodies associated with these reactivity patterns.
Discuss transfusion recommendations and challenges for patients with antibodies to high/low frequency antigens.
Registration
Registration includes access to both the live and on-demand version of this eCast.
If you are a facility interested in participating in this eCast, simply complete the Group Viewing registration form and AABB will provide detailed instructions to share with your team approximately one week prior to the live program (each team member to register for the program utilizing a promocode). For single viewers, simply click on the Register button below to register.
Please note: registration for the live eCast will close 1 hour prior to the eCast start time. If you register after this time you will receive access to the on-demand eCast when it is available.
Continuing Education Credit
AABB estimates both the live and on-demand version of this eCast each to be eligible for 1 continuing education credits/contact hours for Physicians, California Nurse, California Lab Personnel, Florida Lab Personnel and General Participation credit. The final number of credit(s) and credit types awarded for this program (live or on-demand) will be determined by the program duration. For more information on each credit type please visit our Continuing Education Credits webpage.
Disclosures for the planners of this event can be found here. Disclosures for the program faculty are provided at the beginning of the program.
Speaker Biography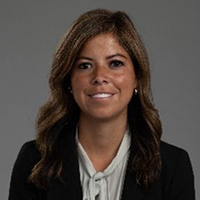 Chelsey Geurkink is an instructor for the Specialist in Blood Banking program within the College of Health Sciences at Rush University. Geurkink completed her Bachelor of Science at the University of Wisconsin-Madison in Biology and Bachelor of Science in Medical Laboratory Science at Rush University. She is in the process of completing her graduate degree in Clinical Laboratory Management at Rush University. She is currently a Senior Scientist at Versiti Illinois Immunohematology Reference Laboratory in Aurora IL.