Director: Donna Berry, Training and Development, New Zealand Blood Service, New Zealand
Moderator: Susanne Bishop, MS, MLS(ASCP)SBB, Assistant Professor, Clinical Education Coordinator, University of Nebraska Medical Centre, Omaha, NE
Speaker:
Malcolm Needs, CSci FIBMS FBBTS, Reference Service Manager specializing in Red Cell Immunohematology (Retired), NHSBT-Tooting Centre (Retired), London, England
Program Description
Hemolytic anemia can occur as a transient condition secondary to certain infections. Serological testing helps to aid diagnosis. This program will discuss the immunohematologic findings seen by the blood bank and additional testing that may be required. The faculty will also look at what infections can lead to hemolytic anemia, including auto-immune hemolytic anemia. Finally, the program will investigate the more common antibody specificities involved in these conditions and how they can often mimic other specificities.
Learning Objectives
After participating in this educational activity, participants should be able to:
List the infections commonly associated with infection-related hemolytic anemia.
Describe the typical laboratory results seen in Cold Agglutinin Disease (CAD) and Paroxysmal Cold Hemoglobinuria (PCH).
Explain the additional testing required for the investigation of CAD and PCH.
Discuss the specificity of blood group antibodies involved in infection-related hemolytic anemia.
Discuss the clinical findings in patients with infection-related hemolytic anemia.
Registration
Registration includes access to both the live and on-demand version of this eCast.
If you are a facility interested in participating in this eCast, simply complete the Group Viewing registration form and AABB will provide detailed instructions to share with your team approximately one week prior to the live program (each team member to register for the program utilizing a promocode). For single viewers, simply click on the Register button below to register.
Please note: registration for the live eCast will close 1 hour prior to the eCast start time. If you register after this time you will receive access to the on-demand eCast when it is available.
Continuing Education Credit
AABB estimates both the live and on-demand version of this eCast each to be eligible for 1 continuing education credits/contact hours for Physicians, California Nurse, California Lab Personnel, Florida Lab Personnel and General Participation credit. The final number of credit(s) and credit types awarded for this program (live or on-demand) will be determined by the program duration. For more information on each credit type please visit our Continuing Education Credits webpage.
Disclosures for the planners of this event can be found here. Disclosures for the program faculty are provided at the beginning of the program.
Speaker Biography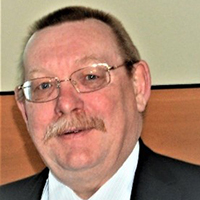 Malcolm began his career at the International Blood Group Reference Laboratory in 1973 as a school leaver. Here he interacted with some very influential names in transfusion medicine including Dr Ruth Sanger, Dr Rob Race, Professor Dame Marcela Contreras, Dr Patricia Tippett, Dr Geoffrey Daniels and Dr Christine Lomas-Francis – which he credits as a fantastic way to start a career. From here he worked at a variety of other places including Westminster Hospital, Mayday Hospital Croydon and Earling Hospital before moving to NHSBT-Tooting to take on the role of Reference Service Manager in Red Cell Immunohematology (RCI). He ended up as the national trainer in RCI before retiring from laboratory work in October 2016.
Malcolm as authored or co-authored numerous posters, abstracts, and peer-reviewed papers and published three chapters in textbooks and 15 book reviews. In 2018 Malcolm was awarded the BBTS Gold Medal for exceptional and long-standing services to the Society and to the practice of transfusion medicine in the UK. He is a Fellow of the BBTS and a Life Member of the IBMS.