Program Description
The rapidly evolving field of cell therapy has positioned clinical trials as the critical conduit to groundbreaking treatments, transforming the future of patient care. Within this intricate framework, quality agreements emerge as the cornerstone, ensuring that every facet of these trials adheres to the highest standards of safety, efficacy, and compliance. These agreements not only set the benchmarks but also act as the guiding compass, ensuring that all stakeholders, from researchers to cell processing facilities, navigate the clinical trial landscape with precision and expertise.
This eCast delves into the heart of clinical trials, shedding light on the pivotal role of quality agreements. Through discussions, demonstrations, and case studies, attendees will gain insights into the structure and significance of these agreements. The program will explore how quality agreements influence the course of clinical trials and provide cell processing facilities with the tools and knowledge to stay at the forefront of best practices. By emphasizing the importance of these agreements in the broader context of cell therapy clinical trials, this program aims to equip attendees with a nuanced understanding, preparing them for the challenges and opportunities that lie ahead.
Learning Objectives
After participating in this educational activity, participants should be able to:
Describe the essence of quality agreements in clinical trials.
Discuss the components of quality agreements for clinical trials.
Optimize clinical trial navigation with quality agreements.
Enhance communication and collaboration through quality agreements.
Address clinical trial challenges using quality agreement frameworks.
Registration
Registration includes access to both the live and on-demand version of this eCast.
If you are a facility interested in participating in this eCast, simply complete the Group Viewing registration form and AABB will provide detailed instructions to share with your team approximately one week prior to the live program (each team member to register for the program utilizing a promocode). For single viewers, simply click on the Register button below to register.
Please note: registration for the live eCast will close 1 hour prior to the eCast start time. If you register after this time you will receive access to the on-demand eCast when it is available.
Continuing Education Credit
This activity is eligible for one (1) continuing education credit/contact hour for Physicians, Nurses (including California-based nursing professionals through CBRN), California Lab Personnel, Florida Lab Personnel and General Participation credit. AABB reserves the right to reduce or increase the number of credits granted based on the final activity duration. For more information on each credit type please visit our Continuing Education Credits webpage.
There is no financial support for this activity.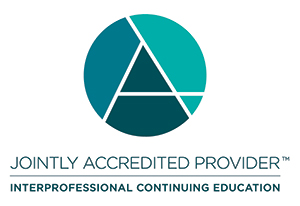 In support of improving patient care, this activity has been planned and implemented by the Association for the Advancement of Blood & Biotherapies (AABB) and CME Outfitters, LLC. CME Outfitters LLC. is jointly accredited by the Accreditation Council for Continuing Medical Education (ACCME), the Accreditation Council for Pharmacy Education (ACPE), and the American Nurses Credentialing Center (ANCC), to provide continuing education for the healthcare team.
Physicians (ACCME): CME Outfitters, LLC, designates this live activity for a maximum of one (1) AMA PRA Category 1 CreditTM. CME Outfitters, LLC, designates this enduring activity for a maximum of one (1) AMA PRA Category 1 CreditTM. Physicians should claim only the credit commensurate with the extent of their participation in the activity.
Claiming Credit
Live Activity - Upon completion of the live activity, you will receive instructions to complete your evaluation, which is necessary to claim credit and receive your certificate of attendance/completion (credit must be claimed by the date provided in the instructions). The evaluation can be found by logging into the AABB Education Platform.
Enduring Activity - Once the enduring (on-demand) program is available, you will receive instructions to access the AABB Education Platform. Upon completion of viewing the enduring activity, you will need to complete the evaluation, which is necessary to claim credit and receive your certificate of completion (credit must be claimed by the date provided in the AABB Education Platform).
Program & Credit Expiration Dates:
Live Activity Program Date: March 20, 2024; Credit Expiration Date: April 20, 2024
Enduring Activity Program Dates: March 20, 2024 – March 19, 2027; Credit Expiration Date: March 19, 2027
Disclosure Declaration
It is the policy of CME Outfitters, LLC, and the Association for the Advancement of Blood & Biotherapies to ensure independence, balance, objectivity, and scientific rigor and integrity in all of their CE activities. Faculty must disclose to the participants any relationships with commercial companies whose primary business is producing, marketing, selling, re-selling, or distributing healthcare products used by or on patients. CME Outfitters, LLC, has evaluated, identified, and mitigated any potential conflicts of interest through a rigorous content validation procedure, use of evidence-based data/research, and a multidisciplinary peer review process. The following information is for participant information only. It is not assumed that the presence of such relationships will have a negative impact on the presentations.
Disclosures for the planners of this event can be found here. Disclosures for the program faculty, peer reviewers, and CME Outfitters, LLC. personnel are provided at the beginning of the program.
Faculty Biographies
Wanxing Cui, MD, PhD, CABP(H) is the director of the Cell Therapy Manufacturing Facility at Medstar Georgetown University Hospital. Dr. Cui received medical training in Shenyang, China, and practiced general surgery as a resident surgeon for three years. He earned his PhD degree at Kyoto University, Japan, in 2001 with research on bioartificial pancreas development. Since then, Dr. Cui has been working on pancreatic islet transplantation at Emory University, the University of Alabama at Birmingham, and Georgetown University for more than twenty years. His research covers a wide spectrum from basic studies with rodent islets and preclinical studies with non-human primate islets to clinical trials with human islets, using a multidisciplinary translational approach. Dr. Cui has published 58 scientific papers and possesses five islet and bioengineering-related patents currently. Dr. Cui has been a standing International Pancreas and Islet Transplant Association (IPITA) member for more than 20 years. At present, Dr. Cui is an active committee member of the Association for the Advancement of Blood & Biotherapies (AABB) cellular therapies section.
Yossi Schwartz, MD, MPH received his MD from Technion-Israel Institute of Technology, Haifa, Israel, and his MPH from Columbia University, Mailman School of Public Health, New York. He completed an Internal Medicine Residency at Morristown Memorial Hospital, Affiliate of Columbia University, College of Physician and Surgeons, Morristown, New Jersey. Dr. Schwartz completed a Hematology Fellowship at Tel Aviv Sourasky Medical Center, Affiliate of Sackler School of Medicine, Tel Aviv University, Israel; a Research Fellowship, Hematopoietic Immunochemistry Laboratory, at Memorial Sloan Kettering Cancer Center; and a Transfusion Medicine Fellowship at New York Blood Center. In 2004, he joined the faculty at Columbia University, Vagelos College of Physicians and Surgeons, as an Assistant Professor and was promoted to Associate Professor in 2010 and Professor in 2015. Dr. Schwartz joined Moffitt Cancer Center from Icahn School of Medicine at Mount Sinai, where he was a Professor in the Department of Pathology, Molecular and Cell-Based Medicine. Dr. Schwartz's vision for excellence in Transfusion Medicine (Blood Banking, Tissue Banking, Apheresis and Cellular Therapy) lies in building a bridge between the contexts in which it is practiced. He plans to strengthen collaboration, streamline communication, and enhance standardization between the patient-facing needs of blood and tissue products and utilization and laboratory operations, and he is committed to service optimization.
Suzanne Thibodeaux, MD, PhD, CABP(H) is an associate professor of pathology and immunology and Co-Section Head of Transfusion Medicine/Blood Bank/HLA at Washington University School of Medicine. She serves as medical and laboratory director of the Cellular Therapy Laboratory, medical director of apheresis, and associate medical director of transfusion and blood banking medicine at Barnes-Jewish Hospital in Saint Louis. She also serves as the Program Director for Blood Banking and Transfusion Medicine Fellowship. Thibodeaux received a bachelor of science degree in cellular and molecular biology from Tulane University. She then earned her doctor of philosophy degree and doctor of medicine degree from the University of Texas Health Science Center in San Antonio. Thibodeaux completed residency in clinical pathology in 2016, during which time she served as chief resident, followed by a fellowship in blood banking and transfusion medicine, both at the Hospital of the University of Pennsylvania. After completing training, Thibodeaux joined the faculty in the Department of Pathology and Immunology at Washington University School of Medicine in St. Louis. Thibodeaux is actively involved in multidisciplinary and collaborative approaches to patient care, education, and clinical and translational research as it relates to cellular therapy and transfusion medicine, demonstrated by her multiple publications, presentations and scholarly pursuits in these areas. Thibodeaux has been an active member of AABB since joining as a trainee. She served on the Cellular Therapy Education Committee and contributed to AABB's Flow Cytometry Educational Module and the Certified Advanced Biotherapies Professional (CABP) examination. She has contributed to the 10th edition of the AABB Standards for Cellular Therapies and is currently contributing to the 11th edition. As an elected member of the Cellular Therapy Section Coordinating Committee, she helps to lead the Quality, Regulatory and Management (QRM) subsection. She aligns her efforts in AABB and other organizations with her personal and professional goals of helping to advance cellular therapies, transfusion medicine and education, particularly where clinical, research and regulatory aspects of the field meets.