Program Description
The path to peer-reviewed academic publication is long, complex, and often frustrating. Many early-career professionals may not be familiar with the process and may feel overwhelmed by it. In this program, the faculty will summarize the publication process and provide tips and frameworks to successfully conceptualize, draft, revise, and submit academic papers for peer-reviewed publication. They will start with identification of research questions and approaches to study designs, including design and interpretation of statistical analyses and pitfalls in these processes. Specific aspects of drafting abstracts, posters, digital slide, and virtual presentation will be addressed. Finally, the program will cover key aspects of drafting, formatting, and revising manuscripts for academic journal submission, including drafting the formal "response to reviewers".
Learning Objectives
After participating in this educational activity, participants should be able to:
List different types of publications and how to identify publishable hypotheses.
Discuss different study designs and statistical techniques to aid in support (or refute) a hypothesis.
Highlight common pitfalls in statistical interpretation.
Review how to draft an abstract for submission and key aspects of an impactful scientific presentation.
Discuss the process of writing a manuscript for publication and how to answer reviewers' comments.
Registration
Registration includes access to both the live and on-demand version of this eCast.
If you are a facility interested in participating in this eCast, simply complete the Group Viewing registration form and AABB will provide detailed instructions to share with your team approximately one week prior to the live program (each team member to register for the program utilizing a promocode). For single viewers, simply click on the Register button below to register.
Please note: registration for the live eCast will close 1 hour prior to the eCast start time. If you register after this time you will receive access to the on-demand eCast when it is available.
Continuing Education Credit
This activity is eligible for one and a half (1.5) continuing education credit/contact hours for Physicians, Nurses (including California-based nursing professionals through CBRN), California Lab Personnel, Florida Lab Personnel and General Participation credit. AABB reserves the right to reduce or increase the number of credits granted based on the final activity duration. For more information on each credit type please visit our Continuing Education Credits webpage.
There is no financial support for this activity.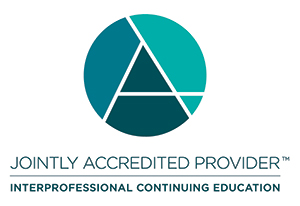 In support of improving patient care, this activity has been planned and implemented by the Association for the Advancement of Blood & Biotherapies (AABB) and CME Outfitters, LLC. CME Outfitters LLC. is jointly accredited by the Accreditation Council for Continuing Medical Education (ACCME), the Accreditation Council for Pharmacy Education (ACPE), and the American Nurses Credentialing Center (ANCC), to provide continuing education for the healthcare team.
Physicians (ACCME): CME Outfitters, LLC, designates this live activity for a maximum of one and a half (1.5) AMA PRA Category 1 CreditTM. CME Outfitters, LLC, designates this enduring activity for a maximum of one and a half (1.5) AMA PRA Category 1 CreditTM. Physicians should claim only the credit commensurate with the extent of their participation in the activity.
Claiming Credit
Live Activity - Upon completion of the live activity, you will receive instructions to complete your evaluation, which is necessary to claim credit and receive your certificate of attendance/completion (credit must be claimed by the date provided in the instructions). The evaluation can be found by logging into the AABB Education Platform.
Enduring Activity - Once the enduring (on-demand) program is available, you will receive instructions to access the AABB Education Platform. Upon completion of viewing the enduring activity, you will need to complete the evaluation, which is necessary to claim credit and receive your certificate of completion (credit must be claimed by the date provided in the AABB Education Platform).
Program & Credit Expiration Dates:
Live Activity Program Date: May 22, 2024; Credit Expiration Date: June 22, 2024
Enduring Activity Program Dates: May 22, 2024 – May 21, 2027; Credit Expiration Date: May 21, 2027
Disclosure Declaration
It is the policy of CME Outfitters, LLC, and the Association for the Advancement of Blood & Biotherapies to ensure independence, balance, objectivity, and scientific rigor and integrity in all of their CE activities. Faculty must disclose to the participants any relationships with commercial companies whose primary business is producing, marketing, selling, re-selling, or distributing healthcare products used by or on patients. CME Outfitters, LLC, has evaluated, identified, and mitigated any potential conflicts of interest through a rigorous content validation procedure, use of evidence-based data/research, and a multidisciplinary peer review process. The following information is for participant information only. It is not assumed that the presence of such relationships will have a negative impact on the presentations.
Disclosures for the planners of this event can be found here. Disclosures for the program faculty, peer reviewers, and CME Outfitters, LLC. personnel are provided at the beginning of the program.
Faculty Biographies
Aaron Hess, MD, PhD, is Assistant Professor of Transplant Anesthesiology and Transfusion Medicine in the Departments of Anesthesiology and Pathology & Laboratory Medicine at the University of Wisconsin-Madison. A practicing liver transplant anesthesiologist and blood banker, Dr. Hess also researches novel transfusion triggers and the epidemiology of massive bleeding. He is a member of the AABB Clinical Transfusion Medicine Committee and the Red Cross Medical Advisory Committee.
John R. Hess, MD, MPH, FACP, FAAAS, is Professor of Laboratory Medicine and Pathology and Adjunct Professor of Medicine and Hematology at the University of Washington in Seattle. He serves as a Medical Director of the Transfusion Service at Harborview Medical Center and formerly as Chief of Transfusion Medicine for the Department of Laboratory Medicine and Pathology. He attended medical school at the University of Washington, earned his Masters in Public Health at the University of Hawaii, and is board certified in internal medicine, hematology, medical oncology, blood banking and transfusion medicine, and general preventive medicine and public health. He is the author of more than 350 papers and book chapters, inventor of hemorrhage control systems and methods for extending RBC storage, and the holder of seven U.S. patents. He serves as an associate editor of TRANSFUSION and had previously served as Chair of the NIH Transfusion Medicine study section and on the WHO Blood Transfusion Medicine Expert Panel. Dr. Hess is retired after 24 years of active service in the U.S. Army and U.S. Public Health Service and had previously served as Director of Health of the Territory of American Samoa. Dr. Hess's current research involves blood product development, hemorrhage control and clinical blood use.
Huy P. Pham, MD, MPH, is the Medical Director at the National Marrow Donor Program (NMDP) Apheresis Collection Center in Seattle, which is the first and only apheresis center that is owned and operated by the NMDP. He is also an adjunct professor of Medicine at the Medical College of Wisconsin. Dr. Pham specializes in Apheresis and Transfusion Medicine and is actively involved in many committees at the AABB and American Society for Apheresis (ASFA).
Lynn G. Stansbury, MD, MPH, MFA, FACP, is affiliate faculty in the University of Washington Departments of Anesthesiology and Pain Medicine and of Laboratory Medicine and Pathology and co-author of Massive Transfusion (AABB Press, 2019). Her medical career has included general and urgent care practice, general public health, and occupational medicine practice and research among diverse civilian and military populations and large and small, public and private institutions all over the US, in Latin American and the Pacific. More recently, her research, teaching, and writing has concentrated on big-data explorations of the epidemiology of trauma, with special interests in the evidence surrounding blood product use in trauma and in mentoring early-career, academic medical-professional writers. Dr. Stansbury is also a novelist and reviews for TRANSFUSION and the literary journal The Baltimore Review.
Lance Williams, III, MD, has served a Consultant Physician at the Mayo Clinic in Phoenix, Arizona since November of 2019. He is currently the medical director of therapeutic apheresis, but also serves in a consulting capacity for blood bank, coagulation, the human cellular therapy lab, and the core laboratory. From 2013 to 2019, he was a tenured associate professor at the University of Alabama at Birmingham (UAB). In his time there, he held many titles including the following: medical director of therapeutic apheresis; medical director of special coagulation; medical director and CLIA lab director at five community hospitals; and, associate residency program director. During his time at UAB, he earned six teaching awards from both the Pathology residency program and the medical school curriculum.