Program Description
Open discussion with case studies to be presented by AABB's accreditation team. AABB standards and actual descriptions from assessment summary reports with documented nonconformances and objective evidence will be highlighted. The speakers will then expand the discussion on tools used to prevent future nonconformances. Finally, AABB staff will discuss AABB resources for continuous process improvement.
Please note: this is the popular eCast held annually. AABB is pleased to continue the conversation with a deep dive into the top three most common nonconformances themes, during the November 13th, 2024 eCast, Addressing Common Nonconformances from AABB: Deep Dive.
Learning Objectives
After participating in this educational activity, participants should be able to:
Identify the most common themes of AABB nonconformances.
Describe the quality tools available on the AABB website and how they are best applied in a systematic approach to minimize and mitigate any identified nonconformances.
Discuss the strengths and weaknesses of the identified quality tools and an example of an application.
Explain the importance of standardization in policies and procedures and how standardization leads to improved quality outcomes.
Registration
Registration includes access to both the live and on-demand version of this eCast.
If you are a facility interested in participating in this eCast, simply complete the Group Viewing registration form and AABB will provide detailed instructions to share with your team approximately one week prior to the live program (each team member to register for the program utilizing a promocode). For single viewers, simply click on the Register button below to register.
Please note: registration for the live eCast will close 1 hour prior to the eCast start time. If you register after this time you will receive access to the on-demand eCast when it is available.
Continuing Education Credit
This activity is eligible for one (1) continuing education credit/contact hour for Physicians, Nurses (including California-based nursing professionals through CBRN), California Lab Personnel, Florida Lab Personnel and General Participation credit. AABB reserves the right to reduce or increase the number of credits granted based on the final activity duration. For more information on each credit type please visit our Continuing Education Credits webpage.
There is no financial support for this activity.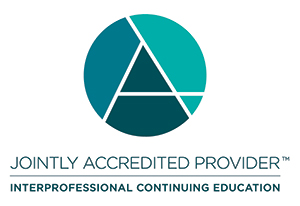 In support of improving patient care, this activity has been planned and implemented by the Association for the Advancement of Blood & Biotherapies (AABB) and CME Outfitters, LLC. CME Outfitters LLC. is jointly accredited by the Accreditation Council for Continuing Medical Education (ACCME), the Accreditation Council for Pharmacy Education (ACPE), and the American Nurses Credentialing Center (ANCC), to provide continuing education for the healthcare team.
Physicians (ACCME): CME Outfitters, LLC, designates this live activity for a maximum of one (1) AMA PRA Category 1 CreditTM. CME Outfitters, LLC, designates this enduring activity for a maximum of one (1) AMA PRA Category 1 CreditTM. Physicians should claim only the credit commensurate with the extent of their participation in the activity.
Claiming Credit
Live Activity - Upon completion of the live activity, you will receive instructions to complete your evaluation, which is necessary to claim credit and receive your certificate of attendance/completion (credit must be claimed by the date provided in the instructions). The evaluation can be found by logging into the AABB Education Platform.
Enduring Activity - Once the enduring (on-demand) program is available, you will receive instructions to access the AABB Education Platform. Upon completion of viewing the enduring activity, you will need to complete the evaluation, which is necessary to claim credit and receive your certificate of completion (credit must be claimed by the date provided in the AABB Education Platform).
Program & Credit Expiration Dates:
Live Activity Program Date: September 18, 2024; Credit Expiration Date: October 18, 2024
Enduring Activity Program Dates: September 18, 2024 – September 17, 2027; Credit Expiration Date: September 17, 2027
Disclosure Declaration
It is the policy of CME Outfitters, LLC, and the Association for the Advancement of Blood & Biotherapies to ensure independence, balance, objectivity, and scientific rigor and integrity in all of their CE activities. Faculty must disclose to the participants any relationships with commercial companies whose primary business is producing, marketing, selling, re-selling, or distributing healthcare products used by or on patients. CME Outfitters, LLC, has evaluated, identified, and mitigated any potential conflicts of interest through a rigorous content validation procedure, use of evidence-based data/research, and a multidisciplinary peer review process. The following information is for participant information only. It is not assumed that the presence of such relationships will have a negative impact on the presentations.
Disclosures for the planners of this event can be found here. Disclosures for the program faculty, peer reviewers, and CME Outfitters, LLC. personnel are provided at the beginning of the program.
Faculty Biographies
Tracie Nichols serves as a Director of Compliance and Domestic Outreach within AABB's Accreditation and Quality department. Prior to joining AABB, she worked as a Technical Specialist at West Virginia University Hospitals Blood Bank and Cellular Processing and prior to that as a Laboratory Generalist for the Wedgewood Family Practice. Ms. Nichols was ASCP certified in 2000 and SBB certified in 2011. Ms. Nichols received a Master's in Clinical Laboratory Science from Michigan State University, a Specialty in Blood Bank Certificate from Dayton Community Blood Center, and a Bachelor of Science in Medical Technology from West Virginia University.
Melanie Sloan serves as AABB's Senior Director of Accreditation and Quality and previously served as an AABB Lead Quality Assessor. Prior to joining the AABB team, she held many positions with the U.S. Army including Health Analyst in Support of U.S. Army Africa Northrup Grumman, Military Blood Bank Officer, and Clinical Laboratory Officer. Ms. Sloan holds multiple certifications including NCA certified in 1992, ASCP (MT) certified in 1992, SBB certified in 1999, and ASQ(CQA) certified in 2002. Ms. Sloan holds a Master of Science and Specialist in Applied Biology-Immunohematology from Bowling Green State University and a Bachelor of Science in Medical Technology from Ohio University.
Laura Staller is a Medical Laboratory Scientist overseeing the cryopreservation service at the National Marrow Donor Program (NMDP). She began her career in the immunohematology reference laboratory at Bonfils Blood Center in Denver, CO, where she enjoyed solving the always challenging puzzles of reference lab work. As the department training specialist, she trained medical fellows and SBB students on the high-complexity testing of the lab. She authored an abstract, published in Transfusion, on the critical role communication plays between medical disciplines resulting from a workup of a Bombay phenotype. Her strong interest in blood centers led to her St. Paul, MN, and the donor testing laboratory at Memorial Blood Centers where she oversaw a team of skilled technicians in a high-volume infectious disease laboratory. She is now focused on cellular therapies at NMDP where she collaborates with various cellular therapy laboratories to extend their cryopreservation and specialty processing capabilities to transplant centers. Laura holds a Master of Healthcare Administration from Ohio University.