In support of AABB's mission to advance transfusion medicine and biotherapies worldwide, the Association offers a variety of educational opportunities. Our education programs are led by world-renowned experts and offer practice-advancing information for professionals at every career level. AABB offers the opportunity to earn continuing education (CE) and continuing medical education (CME) credits through a variety of activities, including the AABB Annual Meeting, eCasts, courses and certificate programs. Specific credit amounts for educational program offerings can be found on the respective program pages.
Claiming CE/CME Credit
In order to claim CE or CME credit, participants will need to complete a program/event evaluation. Evaluations will be available for 30 days (or by the posted deadline) after a live program has concluded (Annual Meeting, eCasts, Hot Topic Discussions, etc.). After the posted deadline, evaluations will close and participants will not be able to claim CE/CME credit. All evaluation deadlines are in Eastern Time.
On-Demand Programs
Evaluations to claim CE/CME credit for on-demand programs (on-demand eCasts, on-demand Hot Topic Discussions, Courses, Certificate programs, etc.) will be available during the learner's access period to the program (please see specific program for evaluation/access expiration dates). After access has concluded, the evaluation will no longer be accessible, and participants will not be able to claim continuing education credit. Access periods are in Eastern Time.
Credit types provided include:
Physicians
The goal of the AABB Continuing Medical Education (CME) Program is to support the AABB mission to advance the practice and standards in transfusion medicine, cellular therapies and patient blood management to optimize patient and donor care and safety. This goal is accomplished by producing relevant, high quality, and cost-effective continuing education that is designed to increases the knowledge and/or competence of physicians and other healthcare professionals.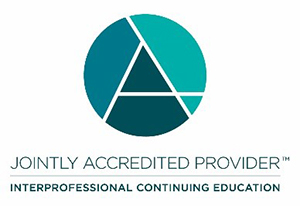 In support of improving donor and patient care, these activities have been planned and implemented by Association for the Advancement of Blood and Biotherapies (AABB) and CME Outfitters, LLC. CME Outfitters LLC. is jointly accredited by the Accreditation Council for Continuing Medical Education (ACCME), the Accreditation Council for Pharmacy Education (ACPE), and the American Nurses Credentialing Center (ANCC), to provide continuing education for the healthcare team.
Education Integrity and Independence

AABB abides by the ACCME Standards for Integrity and Independence in Accredited Continuing Education. These standards require that all CME activities are planned independent of commercial interest and content is delivered with full disclosure and equitable balance. All instructional materials for continuing education programs undergo an intensive review process to ensure compliance with the Standards for Integrity and Independence in Accredited Continuing Education. Disclosures of relevant financial relationships for all parties involved in the planning or delivery of continuing education program are made available on the respective program page and/or at the beginning of a program. AABB has a rigorous peer-review process in place for ensuring that all potential conflicts related to any financial relationships with an "ineligible company" (as defined by ACCME) have been mitigated prior to any continuing education activity taking place.
NOTE: By reading the journal TRANSFUSION, physicians may earn CME credits through ACCME provider Wiley-Blackwell. For details go to www.wileyhealthlearning.com/trf.
California Nurses
AABB is approved by the California Board of Registered Nursing as a provider of continuing nursing education programs (Provider Number 4341).
California Clinical Laboratory Personnel
AABB is an approved accrediting agency for continuing education by the California Board of Clinical Laboratory Personnel (Provider Number 0011).
Florida Clinical Laboratory Personnel
AABB is approved by the Florida Board of Clinical Laboratory Personnel, as a provider of continuing education programs for Florida-licensed clinical laboratory personnel (Provider Number 50-23253).
General Participation
Administrators, nurses (other than California-licensed nurses), clinical laboratory personnel (other than California- and Florida-licensed personnel), and other health-care professionals may receive a certificate of attendance for participation in those AABB educational activities. Certificates can be used for self-reporting to oversight agencies. For more details, check with your licensing or credentialling agency or organization.
American Society for Clinical Pathology (ASCP)
AABB educational programs satisfy the "formal education" option of the ASCP Certification Maintenance Program (CMP).
Questions
Questions regarding continuing education credits should be directed to the AABB Education and Professional Development Department at +1.301.215.6482 or by email at professionaldevelopment@aabb.org.