A Mark of Distinction: Certified Advanced Biotherapies Professional (CABP) Credential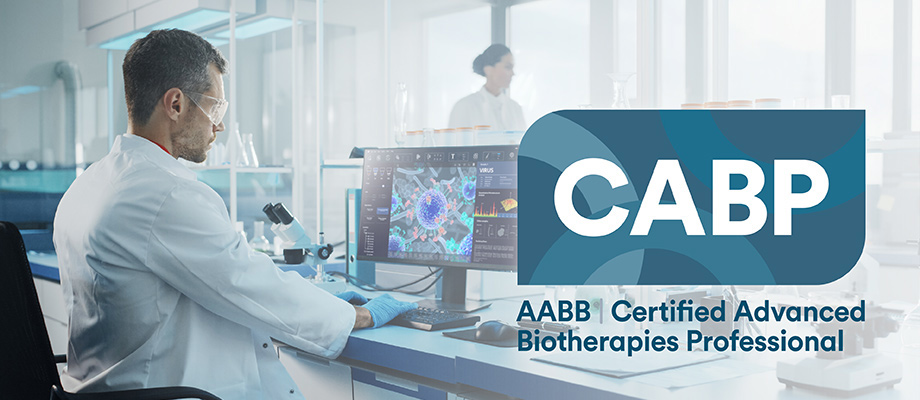 The AABB Certified Advanced Biotherapies Professional (CABP) credentialing program is the first and only certification for biotherapies professionals. Becoming a CABP is a mark of distinction, establishing that qualified professionals have demonstrated – through a certification exam – that they have the necessary knowledge to credibly practice in the field of biotherapies. This certification benefits the entire biotherapies field by establishing minimum standards of competence, identifying qualified and proficient professionals, and advancing safety and quality. It provides an opportunity to recognize high-performing professionals among peers, patients, health care organizations and more. View the full CABP directory here.
Complete your CABP application by Nov. 1 to receive a special, limited-time offer: FREE CABP exam retake (a $150 value).
All CABP applications subject to AABB approval. AABB reserves to right to end this offer at any time.
Take the first step in earning your CABP. Apply today.
Exam scheduling will be available in February 2023.
Advance Your Career as a Certified Advanced Biotherapies Professional
If you are an experienced professional working in the biotherapies field, becoming a CABP will enable you to:
Demonstrate your commitment and competence
Distinguish your credibility from your peers
Position yourself for career advancement
Demonstrate your readiness to take on leadership roles
The CABP examination is open to all experienced biotherapies professionals, including those working as:
Researchers
Medical directors
Quality and regulatory specialists
Laboratorians
Nurses
Pharmacists
Fellows
And more
Identify Qualified Advanced Biotherapies Professionals
Does your facility specialize in biotherapies? Or are you are increasing capacity in this area? Then encourage your staff to apply for the CABP certification and look for the designation when you are recruiting.
The CABP certification will enable you to more easily:
Identify qualified professionals
Advance staff for future roles and/or leadership positions
Establish your organization as one that attracts the highest qualified employees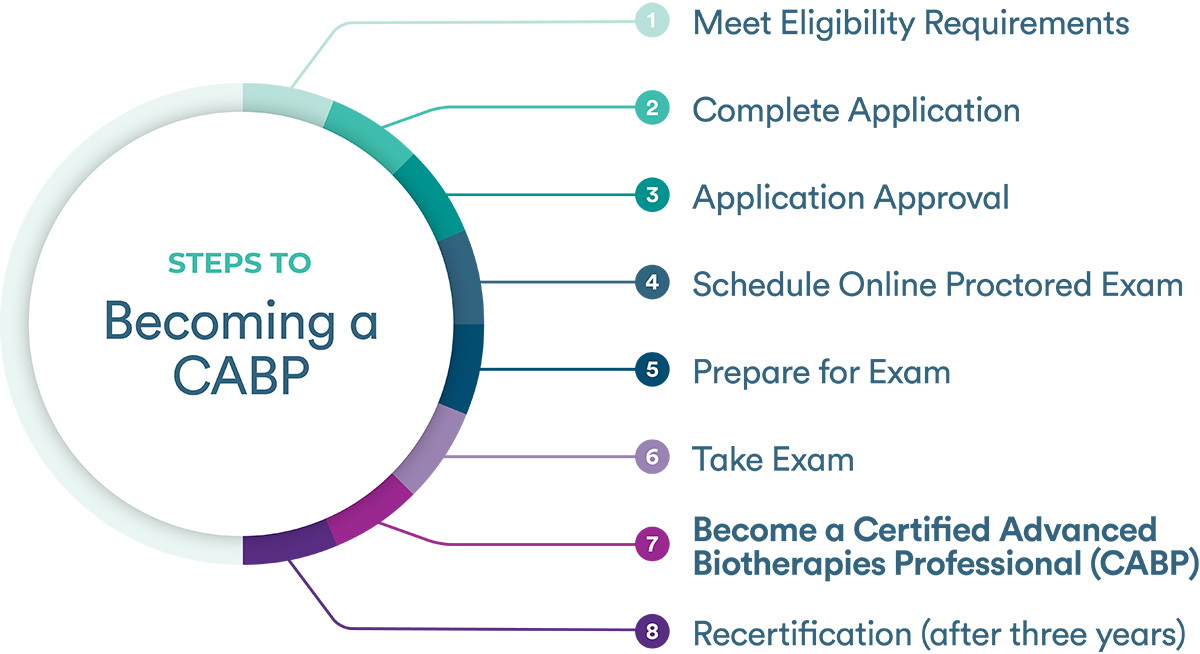 If you wish to file a complaint about the CABP program or a certificant, please consult the CABP Complaint Form. If you wish to appeal a certification decision or any other matter related to the CABP program, please consult the CABP Appeals Form.
Domains Covered by the Exam
Biotherapies in the Patient Care Ecosystem
Biotherapies Science and Ethics
Operations and Equipment
Biotherapies Development Lifecycle
Manufacturing
Quality Systems
Regulatory Environment