Scientific Research Grant Award Recipients
The 2023 early-career grant cycle marks 40 years that the AABB Foundation has awarded research funding to early-stage investigators! Since its inception, the Foundation has awarded over $11 million to early-career investigators through its Scientific Research Grants Program.
The Foundation awards grants for investigator-initiated original research in all aspects of blood banking, transfusion medicine, biotherapies and patient blood management on the basis of their scientific merit, relevance, impact, focus and appropriateness to the scope of funding, and likelihood of yielding meaningful data.
Examples of topics are presented with our gallery of grant and scholar award recipients.
Many AABB Foundation early-career grant recipients have become leaders in their field and are recognized in the Foundation Hall of Fame.
---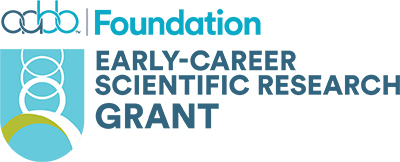 2023 AABB Foundation Early-Career Scientific Research Grant Recipients
Tessa Barrett, BSc (Hons), PhD
Assistant Professor
NYU Grossman School of Medicine
New York City, N.Y.
Project Title: "Perioperative Bleeding: Study of Novel Platelet Candidates and a Diagnostic Transcriptomic Signature"
Project Summary: Perioperative bleeding is a common complication during surgery and is associated with morbidity and mortality. There are unknown mechanisms predisposing individuals to pathologic bleeding, and perioperative bleeding risk scores are limited in predictive utility. The goal of this proposal is to 1) uncover novel pathways that regulate hemostasis and 2) develop a diagnostic tool to identify individuals at increased risk of perioperative bleeding.
Elliott J. Hagedorn, PhD
Assistant Professor
Department of Medicine, Section of Hematology and Medical Oncology
Boston University and Boston Medical Center
Boston, Mass.
Project Title: "Stabilin Scavenger Receptors and the Trans-endothelial Migration of Blood Stem Cells"
Project Summary: Our research leverages unique tools in zebrafish to define the specific molecular mechanisms that determine whether a circulating hematopoietic stem cell (HSC) migrates across the blood vessel wall and into its bone marrow niche - a critical step for successful HSC transplantation. Unlike mammals, zebrafish are transparent, which allows us to directly visualize HSCs in a live animal while simultaneously using chemical and genetic manipulation to mechanistically elucidate the underlying biology.
Shang-Chuen Wu, PhD
Postdoctoral Fellow
Joint Program in Transfusion Medicine, Department of Pathology
Brigham and Women's Hospital Harvard Medical School
Boston, Mass.
Project Title: "Innate Drivers of Adaptive Immune Responses Relevant to Transfusion Medicine"
Project Summary: Blood group positive microbes drive the formation of anti-blood group antibodies capable of causing ABO(H) incompatible hemolytic transfusion reactions (HTRs). Our results also demonstrate that a series of innate immune lectins called galectins possess the ability to specifically bind and kill blood group positive microbes through engagement of their blood group antigens, which shapes the specificity and clinical significance of naturally occurring anti-ABO(H) blood group antibodies.
Erika Marques de Menezes, PhD
Assistant Adjunct Professor of Laboratory Medicine
University of California San Francisco
Staff Scientist at Vitalant Research Institute
San Francisco, Calif.
Project Title: "Do Extracellular Vesicles Derived from Cold-Stored Platelets Act as Pro-inflammatory Mediators?"
Project Summary: Despite strong evidence supporting an association between platelet storage lesions and metabolic changes, the main mechanisms underlying the association are not well defined. Studies in this proposal will bring cutting-edge, high-throughput testing platforms for characterizing extracellular vesicles and their cargo to reveal a novel measure of inflammatory response for discovering predictors of a platelet storage lesion and elucidate new pathways that could be harnessed to provide more targeted therapies.
Julia Z. Xu, MD, MScGH
Assistant Professor
Department of Medicine, University of Pittsburgh
Pittsburgh, Pa.
Project Title: "Effect of Transfusion Modality on Hemorheology and Vascular Function in Sickle Cell Disease"
Project Summary: Anemia is a hallmark of sickle cell disease (SCD) and a major driver of patient morbidity. However, correction of anemia requires careful balancing of raising blood viscosity and microvascular oxygen delivery. Simple transfusion is frequently used to treat severe anemia in SCD, but exchange transfusion may offer more hemorheological benefit. Here, we will compare the effects of simple versus exchange transfusion on mechanisms driving microvascular perfusion and function in patients with SCD.
Patricia E. Zerra, MD
Assistant Professor
Pathology/ Laboratory Medicine and Pediatrics
Emory University School of Medicine
Assistant Medical Director, Emory Special Coagulation Laboratory
Attending Physician, Aflac Cancer & Blood Disorders Center
Children's Healthcare of Atlanta
Atlanta, Ga.
Project Title:"Mechanisms Underlying Factor Viii-specific CD4 T Cell Activation in Mice With Hemophilia A"
Project Summary:Antibodies against factor VIII (inhibitors) are a major complication in the treatment of hemophilia, with no current therapies to prevent their formation. We have identified marginal zone (MZ) B cells as a key initiating immune population in inhibitor development. Our research aims to determine mechanisms by which MZ B cells contribute to propagation of the immune response to factor VIII, with the ultimate goal to develop approaches to prophylactically predict and prevent inhibitor development.
Past Recipients of the AABB Foundation Scientific Research Grant Award