This award (formerly known as the David B. Pall Prize for Innovative Research and the Jack Latham Memorial Award for Innovative Research) was renamed in 2016 and recognizes a scientist whose original research resulted in an important contribution to the body of scientific knowledge in transfusion medicine or cellular therapies. The recipient receives a $1,000 honorarium.
Eligibility
To be eligible for this award, candidates:
Need not be a member of AABB.
Must be an NBF grant recipient who completed research and submitted a final report.
Selection
Recipient is selected by the National Blood Foundation (NBF) Scientific Grants Review Committee with formal approval by the NBF Board of Trustees.
Please send all inquiries about this award to awards@aabb.org.
2020 Recipient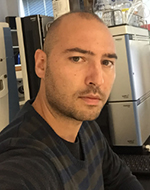 Angelo D'Alessandro, PhD
Associate Professor (Tenured)
University of Colorado, Denver – Anschutz Medical Campus
Director of the Mass Spectrometry Shared Resources, Colorado Cancer Center
and the Metabolomics Core of the School of Medicine
Aurora, CO
Citation:
For his 2016 National Blood Foundation-funded research on the role of adenosine signaling in the preservation of energy metabolism in stored erythrocytes. Dr. D'Alessandro used and integrated metabolomics, proteomics and functional approach to investigate the role of adenosine signaling through the ADORA2B/AMPK axis in both mouse red blood cells and human red blood cells during storage. To conduct this research, he developed high throughput omics methodologies and has supported research projects involving more than 50 international colleagues. Since the completion of his NBF grant in 2017, Dr. D'Alessandro, age 36, has authored over 260 papers in peer reviewed journals.