AABB regularly surveys its members for information about blood collection, utilization and current practices. The AABB survey results are shared with AABB membership, who use them for benchmarking and to better understand the current state of the field. Additionally, AABB uses these data to identify industry trends and to inform AABB's decision making, planning and policy positions.
AABB COVID-19 Hospital Transfusions Service Survey
These surveys were intended for AABB's hospital-based members to help understand the trends and practices impacted by the COVID-19 pandemic. The questionnaire also included relevant/current issues relating to COVID-19 Convalescent Plasma (CCP) collection and transfusion. AABB used the results of these surveys in public statements to help the media, government agencies, other health care organizations, and the public understand the impact of the current outbreak on the care of patients requiring transfusion support.
2021 AABB COVID-19 Hospital Transfusion Services Survey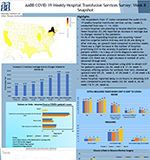 Survey Snapshot (Week of December 14)
Survey Snapshot (Week of November 30)
Week 1-4 Survey: Compiled Infographic (Week 4: April 13-15, 2020)
Week 1-4 Survey: Compiled Infographic (Week 4: April 13-15, 2020) Translated into Spanish
If you have suggestions for topics or survey questions or wish to access past snapshots, please contact Srijana Rajbhandary at srajbhandary@aabb.org.
Past Surveys
2016 AABB Blood Survey
2016 Blood Survey Fact Sheet (PDF) (member benefit)
2014-2015 AABB Blood Survey
2014-2015 AABB Blood Survey (PDF) (member benefit)
Non-AABB members can purchase the report from the AABB Store
2013 AABB Blood Survey
2013 AABB Blood Survey Final Report (PDF)