AABB's donor hemovigilance efforts focus primarily on education, collaboration with other international organizations, and projects undertaken by the AABB Donor Hemovigilance Working Group.
COVID-19 Convalescent Plasma Donor Hemovigilance Study
Convalescent plasma from individuals recently recovered from SARS-CoV-2 infection can passively transfer donor antibodies and is being used as a potential therapy for currently infected COVID-19 patients. Recent studies demonstrate that transfusion of convalescent plasma is safe in hospitalized COVID-19 patients. However, the safety of collecting plasma from donors recently recovered from SARS-CoV-2 infection has not been evaluated. Given that most COVID-19 convalescent plasma (CCP) donors are highly motivated to donate, are often first time apheresis donors and are all recently recovered from a novel viral infection with unknown long-term sequelae, it is imperative to evaluate the safety of CCP donation and to determine whether CCP donors are at increased risk of donor adverse events (DAE) compared to conventional plasma donors.
Objective of this Survey Study: To determine the incidence of DAE for CCP donors and to assess whether it is greater than the reported incidence of DAE for conventional plasma donors.
Please check the resource section to access the publication.
Severity Grading Tool for Donor Adverse Events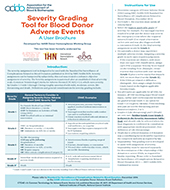 The Severity Grading Tool for Donor Adverse Events developed and validated by a sub-group of the AABB Donor Hemovigilance Working Group, is now finalized and results of the formal validation have been published (Transfusion, 2020).
In January 2018, a sub-group of the AABB Donor Hemovigilance Working Group undertook the task of developing the Severity Grading Tool for Donor Adverse Events to enhance objective assignment of Donor Adverse Events (DAE) severity. The severity assignment tool is designed to be used with the Standard for Surveillance of Complications Related to Blood Donation by ISBT/AABB/IHN. The tool aims to avoid terms such as mild, moderate and severe. It is patterned after an established clinical severity scale, Common Terminology Criteria for Adverse Events (CTCAE1) v 5.0, which rates severity by Grades 1-5 with 1 through 5 being roughly associated with mild, moderate, severe, life-threatening and death; reactions of Grade 3 or higher would be classed as "serious" in donor adverse event reporting systems.
The Draft Severity Assignment Tool was formally presented to meetings of AABB, ISBT and IHN in 2018 to solicit feedback. Comments and recommendations were incorporated into the draft which was submitted for validation testing. Thirty-two real-world cases representing different categories of DAE and varying degrees of severity were selected to test the Severity Grading Tool. Validation study took place between January 8 and February 28, 2019. Post the validation study, modifications were made to the Grading Tool for clarification. The revised tool was presented at the 2019 ISBT meeting and 2019 AABB Annual Meeting.
Please use the link to provide your feedback.

Resources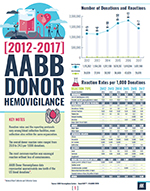 AABB Donor Hemovigilance Reports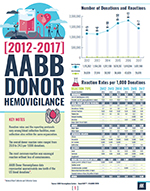 Questions? Contact Hemovigilance@aabb.org or +1.301.215.6588.