At-Large Director (Position 7)
Nancy Dunbar, MD
Dartmouth-Hitchcock Medical Center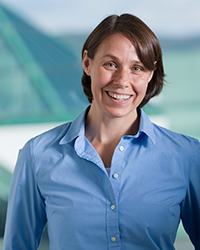 Nancy Dunbar, MD, is an associate professor of pathology and laboratory medicine at the Geisel School of Medicine at Dartmouth and medical director of the blood bank at Dartmouth-Hitchcock Medical center in Lebanon, N.H.
Dunbar received a bachelor's degree in American Studies at Stanford University and taught elementary school for 5 years before returning to school to compete a medical doctorate degree at the University of Washington. After graduating with honors, Dunbar stayed at the University of Washington to complete a clinical residency and served as chief resident. She then completed a fellowship in blood banking/transfusion medicine at the University of California San Francisco/Blood Centers of the Pacific and joined the faculty at Dartmouth.
Dunbar's research interests include trauma resuscitation, platelet inventory management, transfusion safety and clinical apheresis. She has authored or co-authored more than 80 peer-reviewed publications and is an active lecturer in transfusion medicine, both in the United States and internationally.
A member of AABB since 2007, Dunbar has served as both a member and chair of the Distance Learning Program Unit and currently serves on the Selection of Abstracts Committee and the Clinical Transfusion Medicine Committee. Outside of AABB, she serves as an associate scientific member of the Clinical Transfusion Studies Team in the Biomedical Excellence for Safer Transfusion (BEST) Collaborative, the associate editor for the American Society for Apheresis (ASFA) Journal of Clinical Apheresis Special Issue Writing Committee and the international forum editor for Vox Sanguinis.