Program Description
This program will explain current international pediatric transfusion guidelines, including the rationale and evidence-based information that supports them. Gaps in the research to support the current guidelines will be discussed at length. Future studies and approaches to address these controversial areas and knowledge gaps will be discussed particularly in special pediatric patient populations.
Learning Objectives
After participating in this educational activity, participants should be able to:
Compare current international pediatric transfusion guidelines.
Apply evidence-based literature to current pediatric transfusion practice.
Recognize the current knowledge gaps within pediatric transfusion.
Identify current and future approaches for further development of pediatric transfusion guidelines.
Registration
Registration includes access to both the live and on-demand version of this eCast.
If you are a facility interested in participating in this eCast, simply complete the Group Viewing registration form and AABB will provide detailed instructions to share with your team approximately one week prior to the live program (each team member to register for the program utilizing a promocode). For single viewers, simply click on the Register button below to register.
Please note: registration for the live eCast will close 1 hour prior to the eCast start time. If you register after this time you will receive access to the on-demand eCast when it is available.
Continuing Education Credit
This activity is eligible for one (1) continuing education credit/contact hour for Physicians, Nurses (including California-based nursing professionals through CBRN), California Lab Personnel, Florida Lab Personnel and General Participation credit. AABB reserves the right to reduce or increase the number of credits granted based on the final activity duration. For more information on each credit type please visit our Continuing Education Credits webpage.
There is no financial support for this activity.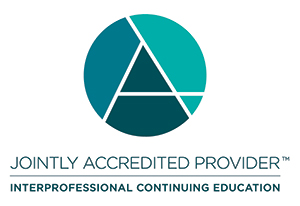 In support of improving patient care, this activity has been planned and implemented by the Association for the Advancement of Blood & Biotherapies (AABB) and CME Outfitters, LLC. CME Outfitters LLC. is jointly accredited by the Accreditation Council for Continuing Medical Education (ACCME), the Accreditation Council for Pharmacy Education (ACPE), and the American Nurses Credentialing Center (ANCC), to provide continuing education for the healthcare team.
Physicians (ACCME): CME Outfitters, LLC, designates this live activity for a maximum of one (1) AMA PRA Category 1 CreditTM. CME Outfitters, LLC, designates this enduring activity for a maximum of one (1) AMA PRA Category 1 CreditTM. Physicians should claim only the credit commensurate with the extent of their participation in the activity.
Claiming Credit
Live Activity - Upon completion of the live activity, you will receive instructions to complete your evaluation, which is necessary to claim credit and receive your certificate of attendance/completion (credit must be claimed by the date provided in the instructions). The evaluation can be found by logging into the AABB Education Platform.
Enduring Activity - Once the enduring (on-demand) program is available, you will receive instructions to access the AABB Education Platform. Upon completion of viewing the enduring activity, you will need to complete the evaluation, which is necessary to claim credit and receive your certificate of completion (credit must be claimed by the date provided in the AABB Education Platform).
Program & Credit Expiration Dates:
Live Activity Program Date: August 2, 2023; Credit Expiration Date: September 2, 2023
Enduring Activity Program Dates: August 2, 2023 – August 1, 2026; Credit Expiration Date: August 1, 2026
Disclosure Declaration
It is the policy of CME Outfitters, LLC, and the Association for the Advancement of Blood & Biotherapies to ensure independence, balance, objectivity, and scientific rigor and integrity in all of their CE activities. Faculty must disclose to the participants any relationships with commercial companies whose primary business is producing, marketing, selling, re-selling, or distributing healthcare products used by or on patients. CME Outfitters, LLC, has evaluated, identified, and mitigated any potential conflicts of interest through a rigorous content validation procedure, use of evidence-based data/research, and a multidisciplinary peer review process. The following information is for participant information only. It is not assumed that the presence of such relationships will have a negative impact on the presentations.
Disclosures for the planners of this event can be found here. Disclosures for the program faculty, peer reviewers, and CME Outfitters, LLC. personnel are provided at the beginning of the program.
Faculty Biographies
Donna Berry originally trained as a Medical Laboratory Scientist before transitioning into Learning and Development. She is currently working towards a Masters in Education in Digital Learning.
Dr. Ruchika Goel is an Associate Professor of Internal Medicine and Pediatrics, Division of Hematology/Oncology at the Simmons Cancer Institute at SIU School of Medicine. She is an Adjunct faculty in the Department of Pathology, Division of Transfusion Medicine, at Johns Hopkins University. In addition, she serves as the Medical Director of ImpactLife Blood Services. Dr. Goel did her Hematology/Oncology Fellowship at the Johns Hopkins University/National Cancer Institute Combined program at NIH (Pediatrics) and Transfusion Medicine Fellowship, at New York Presbyterian Hospital, Weill Cornell and New York Blood Center. Dr. Goel serves a dual role as a practicing hematologist/oncologist with a focus on benign and malignant hematology and heme malignancies and a transfusion medicine physician and is actively engaged in research in Big Data applications in Transfusion Medicine with a special interest in Hemostasis and Thrombosis. She also serves as an invited consultant and subject matter expert for the NIH/NHLBI funded REDS-IV-P longitudinal studies. She is the current chair of the Pediatric Subgroup of the International Society of Blood Transfusion (ISBT). Dr. Goel has multiple accolades to her name including the BEST Collaborative Scott Murphy Lectureship, AABB Fenwal Future Leader TM Scholarship Award, Paul J. Stranjford Young Investigator award by the American College of Laboratory Physician and Scientists, 40 under 40 award for exemplary clinical service and has also received international recognition with the ISBT Harold Gunsen fellowship and the Australian and New Zealand Blood Transfusion Society Presidential award. Dr. Goel has over 125 peer reviewed publications and book chapters to her name including key first author publications in some leading journals including JAMA, JAMA Surgery, Blood, Transfusion and Vox Sanguinis and has been invited to lecture nationally and internationally on topics of her research focus.
Dr. Cassandra Josephson is the director of the Cancer and Blood Disorders Institute (CBDI), Clinical Division Director for Hematology/Oncology, and Medical Director of Transfusion Medicine at the Johns Hopkins All Children's Hospital in St. Petersburg, Florida starting July 1, 2022. She is also a professor (pending appointment at rank) in the Department of Oncology at the Johns Hopkins School of Medicine in Baltimore, Maryland. Dr. Josephson's research career focuses on pediatric transfusion medicine and, more specifically, transfusion therapy in neonates, sickle cell anemia, thalassemia, and massive transfusion in children with hemorrhage. She currently and previously garnered grants from National Institutes of Health, CDC, industry and private foundations where she is or has been the Principal Investigator. Dr. Josephson is actively involved in teaching medical students, residency, and fellowship trainees in pathology and pediatrics. She has authored or co-authored more than 180 publications in peer-reviewed journals, 17 review articles, and more than 15 book chapters. She is one of the Co-Chairs for the REDS IV-Pediatrics Program evaluating Recipient Epidemiology and Donor Evaluation of Blood Products and Transfusion in the US and Brazil focused on Children. She also serves as an Associate Editor for Transfusion, the journal of the AABB.
Lynsi Rahorst is the Manager of Education and Training for the IRL and Genomics laboratories for New York Blood Center Enterprises (NYBCe). She has been active in the Heart of America Association of Blood Banks, has served on education-related committees for AABB, and is active in the AABB Spanish language section. Lynsi is passionate about educating and training the next generation of leaders in immunohematology and genomics, as well as supporting blood banking educational initiatives in Spanish-speaking countries.