Program Description
The RH blood group system is complex and is of great importance in transfusion medicine. While alloantibodies directed against Rh antigens are generally clinically significant, unexplained antibodies, autoantibodies and drug antibodies with Rh specificities present unique challenges. Antigen typing discrepancies are not uncommon due to variant RH alleles which are more prevalent in some populations. RH genotyping has expanded our knowledge of the blood group system and can offer further information on antigen expression and alloimmunization risk.
In this program, the faculty will dive into the complexities of the RH blood group system, including details about both serologic and genomic testing so that transfusion medicine professionals may better understand this complex system. Importantly, the focus will be on the implications for patients and donors.
Learning Objectives
After participating in this educational activity, participants should be able to:
Describe serologic and molecular strategies used to classify antibodies with Rh specificities as alloantibodies, autoantibodies or drug-related antibodies.
Compare and contrast Rh antigen typing of patients and donors.
List causes of Rh typing discrepancies and explain how genomics testing is used in investigation of such cases.
Discuss the implications of RH variants in patients and donors.
Registration
Registration includes access to both the live and on-demand version of this eCast.
If you are a facility interested in participating in this eCast, simply complete the Group Viewing registration form and AABB will provide detailed instructions to share with your team approximately one week prior to the live program (each team member to register for the program utilizing a promocode). For single viewers, simply click on the Register button below to register.
Please note: registration for the live eCast will close 1 hour prior to the eCast start time. If you register after this time you will receive access to the on-demand eCast when it is available.
Continuing Education Credit
This activity is eligible for one (1) continuing education credit/contact hour for Physicians, Nurses (including California-based nursing professionals through CBRN), California Lab Personnel, Florida Lab Personnel and General Participation credit. AABB reserves the right to reduce or increase the number of credits granted based on the final activity duration. For more information on each credit type please visit our Continuing Education Credits webpage.
There is no financial support for this activity.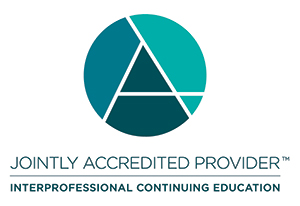 In support of improving patient care, this activity has been planned and implemented by the Association for the Advancement of Blood & Biotherapies (AABB) and CME Outfitters, LLC. CME Outfitters LLC. is jointly accredited by the Accreditation Council for Continuing Medical Education (ACCME), the Accreditation Council for Pharmacy Education (ACPE), and the American Nurses Credentialing Center (ANCC), to provide continuing education for the healthcare team.
Physicians (ACCME): CME Outfitters, LLC, designates this live activity for a maximum of one (1) AMA PRA Category 1 CreditTM. CME Outfitters, LLC, designates this enduring activity for a maximum of one (1) AMA PRA Category 1 CreditTM. Physicians should claim only the credit commensurate with the extent of their participation in the activity.
Claiming Credit
Live Activity - Upon completion of the live activity, you will receive instructions to complete your evaluation, which is necessary to claim credit and receive your certificate of attendance/completion (credit must be claimed by the date provided in the instructions). The evaluation can be found by logging into the AABB Education Platform.
Enduring Activity - Once the enduring (on-demand) program is available, you will receive instructions to access the AABB Education Platform. Upon completion of viewing the enduring activity, you will need to complete the evaluation, which is necessary to claim credit and receive your certificate of completion (credit must be claimed by the date provided in the AABB Education Platform).
Program & Credit Expiration Dates:
Live Activity Program Date: March 6, 2024; Credit Expiration Date: April 6, 2024
Enduring Activity Program Dates: March 6, 2024 – March 5, 2027; Credit Expiration Date: March 5, 2027
Disclosure Declaration
It is the policy of CME Outfitters, LLC, and the Association for the Advancement of Blood & Biotherapies to ensure independence, balance, objectivity, and scientific rigor and integrity in all of their CE activities. Faculty must disclose to the participants any relationships with commercial companies whose primary business is producing, marketing, selling, re-selling, or distributing healthcare products used by or on patients. CME Outfitters, LLC, has evaluated, identified, and mitigated any potential conflicts of interest through a rigorous content validation procedure, use of evidence-based data/research, and a multidisciplinary peer review process. The following information is for participant information only. It is not assumed that the presence of such relationships will have a negative impact on the presentations.
Disclosures for the planners of this event can be found here. Disclosures for the program faculty, peer reviewers, and CME Outfitters, LLC. personnel are provided at the beginning of the program.
Faculty Biographies
Danielle Mullins continues her journey with Versiti as the Manager of Quality Assurance assisting the Diagnostic Laboratories, Donor Testing Laboratory, Transfusion Service and OPO/Tissue groups. She has over 10 years of Immunohematology experience and previously enjoyed the complex problem solving that is required to manage an IRL in the greater Chicagoland area. Danielle is very passionate about lifelong learning. In addition to participating in the AABB eCast programing, she continues to administer lectures and learning rotations for the SBB and BB programs at Versiti.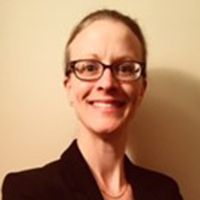 Lynsi Rahorst is the Manager of Education and Training for the IRL and Genomics Laboratories for New York Blood Center Enterprises (NYBCe). She has been active in the Heart of America Association of Blood Banks, has served on education-related committees for AABB, and is active in the AABB Spanish language section. Lynsi is passionate about educating and training the next generation of leaders in immunohematology and genomics, as well as supporting blood banking educational initiatives in Spanish-speaking countries.
Sunitha Vege is the Technical Director of the Genomics Laboratory at the New York Blood Center. She received her Master's in Ecology and Evolutionary Biology and more recently, in Bioinformatics. She has been working in the blood group genotyping field for over 15 years with particular interest in the RH system and its genetic diversity. She has presented at state and national meeting and as co-authored numerous publications in the area.