Initiated in 1954 to honor Karl Landsteiner, MD, whose lifetime research laid the foundation for modern blood transfusion therapy, this award recognizes a scientist whose original research has resulted in an important contribution to the body of scientific knowledge.
The scientist who receives the award should have an international reputation in transfusion medicine or biotherapies. This award is presented annually as exceptional candidates are identified.
Eligibility
To be eligible for this award, candidates:
Need not be a member of AABB.
Must have authored original research contributing to body of knowledge, international reputation in transfusion medicine or related field.
Must have a completed nomination form submitted during the nomination period.
Selection
Recipient is selected by AABB's Board of Directors.
Please send all inquiries about this award to awards@aabb.org.
2021 Recipient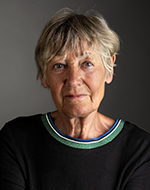 Anneke Brand, MD, PhD
Professor of Transfusion Medicine, Leiden University Medical Center
Citation:
For her pioneering work on the immunological effects of blood transfusions, particularly on the role of leukocytes in blood products and their ability to modulate immunity.