Volunteer Spotlight and Member Highlights
Exciting news! AABB's Professional Engagement Program will be showcasing all of the great work our members do for AABB and the world at large.
Our PEP Volunteer Spotlight will consist of a short Q&A with one of our members published each month in AABB News. Our members play an integral role here at AABB and we want to share their accomplishments.

Member Highlights can be any volunteer accomplishment directly involved with AABB and will change as new highlights are added. These highlights may range from publications, committee work, webinars and everything in between!
We are currently soliciting names of individuals to showcase for the coming year in either our Volunteer Spotlight or a Member Highlight capacities. If you or a fellow AABB member are interested, please email us at PEP@aabb.org.
Professional Engagement Program Volunteer Spotlight on Tina S. Ipe, MD, MPH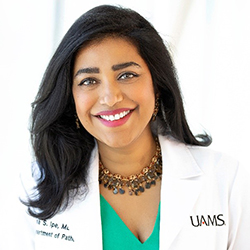 Division Director of Transfusion Medicine at the University of Arkansas for Medical Sciences; Associate Professor in the Department of Pathology and Laboratory Medicine
How long have you been an AABB member?
I became an AABB member while I was a resident at the Hospital of the University of Pennsylvania in 2011.
What volunteer activities are you currently active or have participated in within AABB?
I attended my first AABB annual meeting in 2011, where I was awestruck by the educational sessions and people I met during the conference. My mentor and sponsor, Dr. Deborah Sesok-Pizzini, helped me navigate through the annual meeting by introducing me to other thought leaders and change agents in the field. My involvement in volunteer activities was spearheaded by another colleague, Dr. Jill Adamski, with whom I co-chaired the Communications Committee at the American Society for Apheresis (ASFA). We submitted educational proposals and abstracts on behalf of the ASFA committee for the AABB annual meetings. This served as a springboard for many volunteer opportunities within AABB such as the Apheresis Committee, on which I continue to serve as a member. I became an AABB assessor in 2013. Serving as a volunteer assessor enabled me to work with incredibly talented and knowledgeable AABB staff members such as Christopher Bocquet, Nancy Shotas, Frances Ivestor, and other assessors worldwide. Because of my interest in global population health and transfusion medicine, I participate as one of the co-chairs for the Research Subcommittee of the Global Transfusion Forum. Other committees that I serve on include the AABB BB/TS Standards Committee and the Annual Meeting Education Committee (AMEC).
What motivates you to volunteer?
Volunteering makes me a more learned physician. Every day, because of my interactions on committees, my knowledge is continually expanded. I constantly learn about new regulations, new medical advancements, and new workflow process enhancements with each of my interactions, both locally and internationally. In addition, I get to contribute to causes that matter to me, such as transfusion medicine and apheresis, global health, and diversity, equity, access and inclusion.
I would be remiss not to mention the many AABB staff members who have guided me through volunteering opportunities, such as Arnold McKinnon, Eduardo Nunes, and Sharon Carayiannis. And the mentorship of other physicians such as Drs. Beth Shaz, Gay Wehrli, Quentin Eichbaum, and Michael Murphy.
How has your volunteer work impacted your professional work?
My professional work is a natural extension of the many skills and knowledge that I have obtained from volunteering in AABB committees. I also have developed a broad network of AABB colleagues, both physicians and technical staff, whose experience I can draw from when I do not have the answers.
What have you learned from volunteering with AABB? And what advice would you give to someone interested in volunteering?
I will quote Forest Gump regarding my volunteering with AABB as it has been "like a box of chocolates." I never knew what to expect next, but it has been an excellent opportunity with many happy surprises.
Dive into volunteering. Introduce yourself to individuals such as Arnold McKinnon, who is the Volunteer Engagement Manager, and express your interest. If you fail at your first attempt to get into a committee, brush yourself, and try again.
What is your favorite genre of music?
I cannot say I have a favorite genre because I do like it all. And my musical genre changes with my mood and who is in the car with me as I listen to all types of music, from heavy metal to bluegrass to pop.
For more information email PEP@aabb.org.