The AABB Chagas Biovigilance Network platform was established to collect, report and analyze screening and confirmatory results from the testing of blood donors for antibodies to Trypanosoma cruzi. The platform was discontinued on February 14, 2020. A letter to the Chagas Biovigilance Network participants describes the details.
Key Findings
Data was downloaded on 12/20/2019.
Between 2007 and 2019, a total of 15,999 initial reactive donations, including 12,049 confirmed negative, 2,462 confirmed positive, 1,142 indeterminate, 253 no confirmatory test, 70 results pending and 23 donations with unknown confirmatory test status, were reported.
The highest number of donations with confirmed positive Chagas disease were reported from the following states: California (890), Florida (325), Texas (199), New York (166) and Virginia (119).
16 confirmed-positive donations had no state information reported.
Of the 15,999 reactive donations, 8,219 were from male donors, 6,995 were from female donors and no specific gender was reported for 785 donations.
There was a downward trend of donations with confirmed positive Chagas disease since the second quarter of 2008.
The highest number of confirmed-positive donations were reported in 2008 Q2 (121), followed by 2008 Q3 (113).
9,698 first time donors, 5,404 repeat donors and 897 donations with no specific donation history were reported.
Of the 5,404 repeat donors, 4,867 were never tested for Chagas, 335 were previously tested for Chagas and no information regarding test history were reported for 202 donors.
Among the confirmed positive donors with reported birth country (559), 166 were born in Mexico, followed by 158 in the United States.
Leishmania test were performed in 2.1% (333) of the total reactive donations.
87.2 % (2,146) of confirmed positive donations were allogeneic.
For questions, please contact us at hemovigilance@aabb.org.
AABB Chagas Biovigilance Network Data: Final Results 2007-2019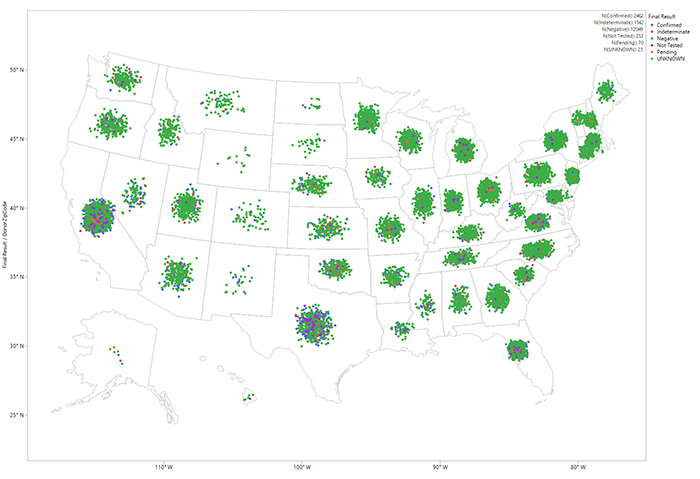 Click the map above to view full interactive data

Confirmed Positive Chagas Donations by States: 2007 - 2019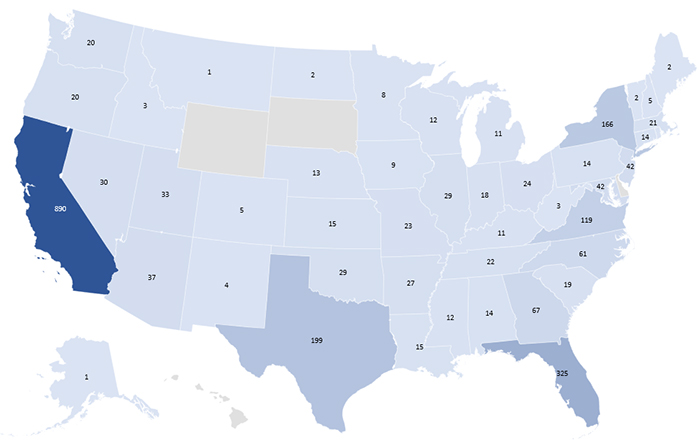 Chagas Reactive Donations by Final Test Results per Quarter: 2007-2019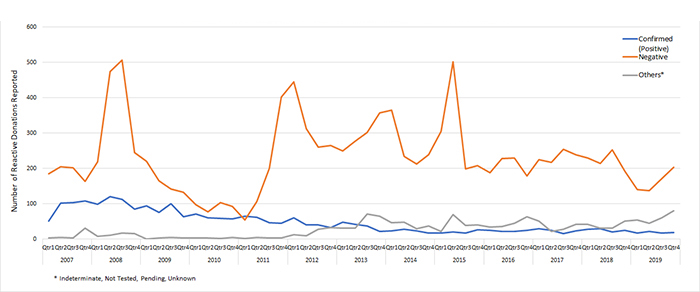 Donor Type and Chagas Test History: Reactive Donations, AABB Chagas Biovigilance Network 2007-2019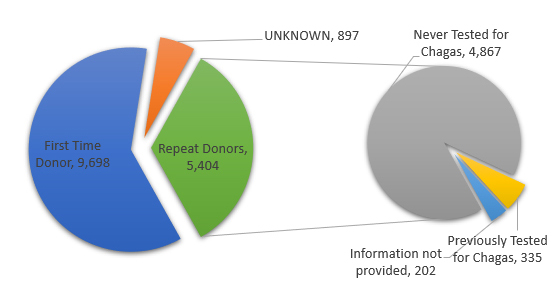 The data posted on this Web site is provided by third parties and is not verified by AABB. Accordingly, AABB makes no guarantee or promise that the data is current, valid, or accurate. No content on this site is intended to constitute professional advice, whether medical, legal or otherwise. AABB expressly disclaims any liability or loss that may arise either directly or indirectly from relying on the information, services or other material on this site.
Reporting facilities that are HIPAA-compliant should report only patient data that has been de-identified in accordance with HIPAA de-identification standards. AABB is not responsible for reporting facilities' compliance with federal, state or local laws or regulations.