The FDA requires a licensed biological product sponsor to promptly review all adverse experience (AE) information pertaining to its product received from any source, foreign or domestic, including information derived from commercial marketing experience; postmarketing clinical investigations; postmarketing epidemiological/surveillance studies; reports in scientific literature; and unpublished scientific papers.
An AE is any adverse event associated with the use of a biological product in humans, which may or may not be considered product-related. This includes any adverse event that occurred in the course of professional practice or resulted from accidental or intentional overdose, abuse and withdrawal. It also encompasses any pharmacological action failure. An AE is considered serious — regardless of the dose — if it is life-threatening or results in death, inpatient hospitalization, prolongation of existing hospitalization, a persistent or significant disability/incapacity, or a congenital anomaly/birth defect. An unexpected AE is one that is not listed in the current labeling for the biological product.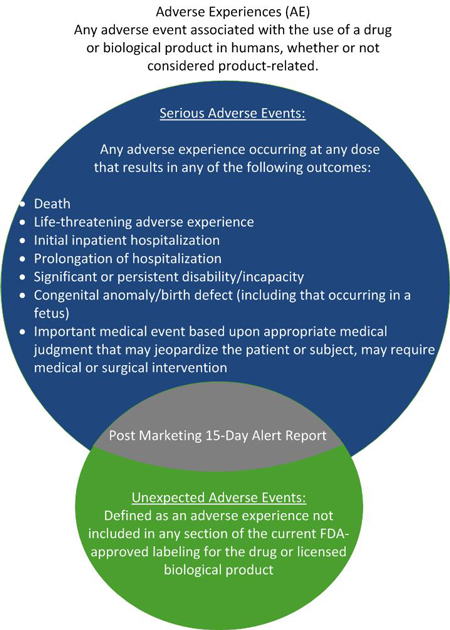 Sponsors must submit a "Postmarketing 15-Day Alert Report" for AEs that are both serious and unexpected as soon as possible but no later than 15 calendar days after initial receipt of the information. A sponsor is required to investigate all AEs that are the subject of these 15-day reports. Follow-up reports must be submitted within 15 calendar days of receipt of new information or as requested.
All AEs must be reported to the FDA using Form FDA 3500A. Additional information and resources for AE reporting are available on the FDA's MedWatch Web pages. Foreign AEs may be submitted on FDA Form 3500A or, if preferred, on a CIOMS Form I.
For all other AEs (i.e., those that are not serious nor unexpected), the sponsor is required to submit Periodic Adverse Experience Reports (PADERs) quarterly for the first three years after BLA approval and annually thereafter.