This award, renamed in 2005 after Bernice Hemphill, W. Quinn Jordan, and Joel Solomon, honors leaders from the transfusion medicine and biotherapies community. The award recognizes an individual who made significant contributions in the areas of administration, quality programs, law and/or government affairs. It may recognize one particular act or an accumulation of years of contributions. Acceptance of the award requires attendance at the Annual Meeting and the presentation of a lecture.
The recipient will receive a $5,000 honorarium. The Hemphill-Jordan Leadership Award is presented annually and the recipient is chosen one year in advance.
Eligibility
To be eligible for this award, candidates:
Need not be a member of AABB.
Must have demonstrated leadership qualities and a consistent willingness to lend his/her expertise to his/her peers.
Contributions in the areas of administration, quality programs, law and/or government affairs.
Must have a completed nomination form submitted during the nomination period.
Selection
Recipient is selected by a joint committee composed of leaders from the Cellular Therapies Section Coordinating Committee and the Transfusion Medicine Section Coordinating Committee with formal approval by AABB's Board of Directors.
Please send all inquiries about this award to awards@aabb.org.
2021 Recipient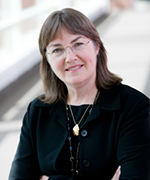 Dana Devine, PhD
Chief Scientist, Canadian Blood Services
Professor of Pathology and Laboratory Medicine, University of British Columbia
Citation:
For her extensive contributions in transfusion medicine, particularly in the areas of administration, quality programs, and law/government affairs. Dr. Devine created an integrated research program with strong ties to government and academic sectors. This model also included direct support for trainees, including PhD students, postdoctoral fellows, and transfusion medicine residents/fellows.