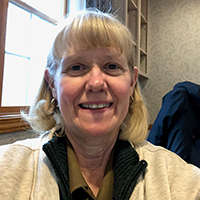 Cindy Zelek has been an AABB assessor for many years. In this interview, she provides some insight on her background, her experience as an AABB assessor, and why she enjoys the work.
What is your background?
I started as a medical technologist in the field of laboratory medicine. I worked at several health care facilities, including the Cleveland Clinic, Mount Sinai Hospital and MetroHealth Medical Center. I've worked at the American Red Cross for 35 years. I found my career path through a pilot medical technology co-op program at Cleveland State University. This type of program was something quite new and cutting-edge in the 1970s. The program allowed you to study for a quarter and work for a quarter in a field of your interest. There was an opportunity at the American Red Cross Blood Services, which I chose to take. I fell in love with this field. After I graduated, I took a full-time position at American Red Cross. Initially, I worked in laboratory medicine and, throughout my career, I moved into a number of positions, but I found my calling in quality assurance.
What attracted you to become an AABB assessor?
Education is a significant part of AABB's mission, and I've always been a proponent of education. From my perspective, if there is something like a non-conformance identified during an assessment, I try to work with the facility in an educational manner to understand the reasoning behind why the non-conformance had to be issued so they can develop a plan that will bring them back to conformance. I also get to meet new people as an assessor, and I enjoy that.
What is your favorite thing about being a lead assessor?
Again, education is important to me. Education is sewn into everything we do to become an assessor. When I work with a facility, I help them understand what they need to do to achieve compliance and work with them in a professional manner.
I enjoy being a lead assessor. I have a passion to teach new assessors and help them to be successful. I enjoy working with those who are new to assessment and try to give them the big picture. My training goes back to the laboratory, where it's important to know and understand the reason why we do something. This is important in assessment too.
What should someone who is considering becoming an AABB assessor know?
You put in a good amount of time, energy and motivation to become an assessor because you really have the passion to become one. As an assessor, ideally, you do a lot of preparation work and reading of the standards and regulations to prepare for the upcoming assessment. And as a lead assessor, you want your time to make a positive impact on the facility. Even if you're not training someone, this process takes time to do it well. The more time that you put into an assessment, the better the time spent at the facility. As a lead assessor, I also like to get to know the team, prior to us going out and performing the assessment, so that the team will be more prepared. Overall, I believe that communication and being able to connect with people is key to being a successful AABB assessor.
Ms. Zalek is currently retired from the American Red Cross. Her last position was that of a senior quality associate at American Red Cross.