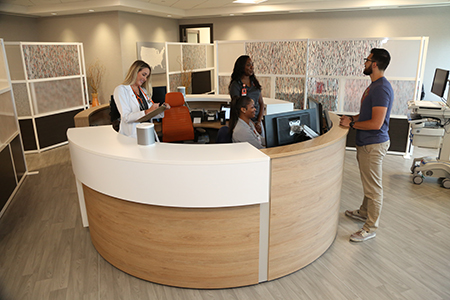 Featured AABB-Accredited Facility: Gift of Life Marrow Registry
Now in its 30th year, the Gift of Life Marrow Registry cures patients battling blood cancer and other life-threatening diseases by providing donors for marrow and stem cell transplants.
In addition to having saved thousands of lives through stem cell and marrow transplants, its newest division, Gift of Life Biologics, provides cell and gene therapy developers with cellular starting material from healthy or specialized donors for further manufacture of next generation biotherapies. Gift of Life is also building a Biobank of off-the-shelf, on-demand products and cellular starting material. Gift of Life's 70-person team is passionate about innovation, advancing cellular therapies and saving lives.
"We are proud that our commitment to quality and safety has been recognized and accredited by the AABB. Since opening in 2019, the Collection Center has continued to meet an increased demand in cellular therapies, providing the highest quality products with best-in-class service."
- Omardeen Woodley, Apheresis Facility Director