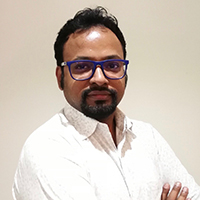 International assessor Rajiv Kumar, senior manager of quality assurance at Cryoviva Singapore Pte Ltd (CSG), recently completed his first trainee assessment. Upon completion of his final trainee assessment, Kumar will join a team as an approved assessor in a team member role.
In this interview, Kumar provides some insight on his background, his experience in the AABB Assessor Program and why he enjoys the work.
What is your background?
My background is rooted in the field of quality assurance, with a strong focus on regulatory compliance and quality management. Over the years, I have gained extensive experience in various organizations, holding key positions that have allowed me to develop a comprehensive skill set. I started my professional journey as a quality executive at IMA Blood Bank, India, where I played a significant role in implementing ELISA testing for the first time in the organization. This experience honed my expertise in quality control procedures and documentation, as well as process enhancement and audits. Upon this foundation, I transitioned to the role of quality assurance manager at Cryoviva Biotech Pvt Ltd. India. Here, I was responsible for conducting audits based on rigorous checklists, such as DCGI, ISO, NABL, AABB, CAP, cGMP and cGLP.
Currently, as a senior manager of quality assurance at Cryoviva Singapore Pte Ltd (CSG), I oversee a wide range of responsibilities. These include preparing external and internal audits according to MOH Singapore regulations, CSG SOPs, ISO 9001-2015 Quality Management System and AABB Cellular Therapy standards. An essential aspect of my professional growth has been my training initiatives. I have completed the new AABB assessor training course, enhancing my skills in assessing and maintaining high-quality standards in biotherapies. Furthermore, I have undergone training in various aspects of quality management systems, ISO standards, biosafety principles and internal auditing, among others.
What attracted you to become an AABB assessor?
Becoming an AABB assessor provides an opportunity to deepen my expertise in the field of biotherapies and related disciplines. The comprehensive training offered by the AABB assessor course can be intellectually stimulating and enhance professional knowledge. I would emphasize the importance of contributing to the advancement of quality and safety in the health care field, as assessors play a critical role in evaluating and ensuring compliance with AABB standards, which are globally recognized benchmarks. Lastly, I would highlight the sense of community and the opportunity to collaborate with other dedicated professionals in advancing the field.
What is your favorite aspect of the AABB Assessor Program? How has the program helped you reach your professional goals?
The training program of an AABB assessor is indeed critical for understanding the audit process and equipping individuals with the necessary knowledge and skills to perform effective facility audits. The training materials provided by AABB are designed to be informative, concise and easily understandable, ensuring that assessors have the resources they need to carry out their responsibilities effectively. Interacting with different experts in the field of biotherapies during this journey can be an invaluable learning experience, providing opportunities to exchange knowledge, gain insights and further enhance professional expertise. The combination of training and collaboration with experts contributes to a well-rounded and enriching experience as an AABB assessor.
What should someone interested in becoming an AABB assessor know?
You have to invest a considerable amount of time, effort and motivation into becoming an AABB assessor because of your genuine passion for the role. As an assessor, thorough preparation and familiarizing yourself with standards and regulations are essential components of your approach to ensure a well-executed assessment. In this role, your aim is to have a positive impact on the facility. You understand that this process takes time to be done effectively, and the more time you dedicate to the assessment, the more valuable your presence becomes at the facility.