At-Large Director (Position 4)
Magali Fontaine, MD, PhD, CABP
University of Maryland School of Medicine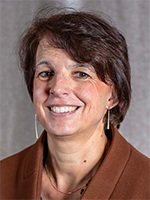 Magali Fontaine, MD, PhD, CABP, is a professor of pathology and medicine, and medical director of the transfusion service, at the University of Maryland School of Medicine. Fontaine previously served as associate medical director of the transfusion service at the Stanford University Medical Center. She divides her time between teaching, research and clinical service. She received several teaching awards and a faculty mentor award for postdoctoral fellows in immunology from Stanford University. She received her medical doctor degree from the University of Paris V Renee Descartes, completed a pathology residency and a PhD in immunology at the University of Illinois at Chicago, and a fellowship in transfusion medicine at the Mayo Clinic.
Fontaine has authored or coauthored more than 80 publications. Her research interests are both in transfusion medicine and cellular therapies. In transfusion medicine, her research is focused on the management of the blood supply chain and prevention of transfusion adverse events. In the field of cellular therapies, her research is a continuation of her post-doctoral training spent at Harvard Medical School, where she assisted with the first tumor infiltrating lymphocyte immunotherapy protocols, and was mentored by pioneers in tissue engineering, optimizing new encapsulation techniques of hepatocyte and islet cells for transplantation.
Fontaine served as chair of AABB's Committee on Standards for Cellular Therapies, as chair on AABB's Novel Cellular Therapies Subsection, and as chair of AABB's Cellular Therapy Education Program Unit, leading the development of a new e-learning program certificate in cellular therapies. She serves on the editorial board of Transfusion, and Transfusion Medicine Reviews.