Blood transfusion is a medical therapy that can be life-saving. As with any treatment, however, transfusion of blood or blood components must be ordered and administered safely and appropriately. Transfusion is more than a single discrete event—it is a process. The transfusion chain begins with donor considerations (whether their donation is safe for them to make and whether the donation is safe for any patient to receive). Once blood is collected, the safety of the blood product is a focus of activity (infectious disease testing, compatibility testing, necessary modifications such as irradiation or leukocyte reduction). The endpoint of the transfusion process involves recipient considerations (proper identification of the unit and the patient, appropriateness of blood as the best treatment modality, administration of the unit, evaluation of the recipient).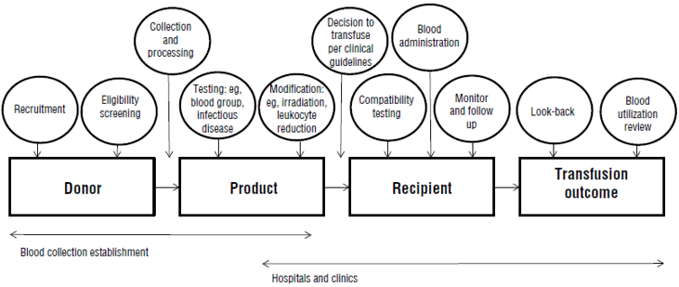 In this area of the website, users will find information on all aspects of the transfusion process. Frequently Asked Questions about blood, information on blood donation, a standardized donor history questionnaire, a Circular of Information for the Use of Human Blood and Blood Components, and fact sheets on emerging infectious diseases are featured. Other useful information, such as highlights of transfusion medicine history, are also available.

Because a focus of AABB is the practice of appropriate transfusion medicine, relevant information can be found through a search of the entire website. Users are encouraged to browse content in both the cellular therapies and patient blood management areas for additional information on blood and transfusion.