At-Large Director (Position 6)
Phil Accooe, MBA, MS, MLS(ASCP)SBB, CLS, CABP, PMP
U.S. Department of Veterans Affairs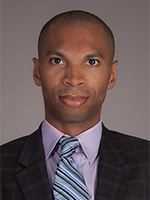 Phil Accooe, MBA, MS, MLS(ASCP)SBB, CLS, CABP, PMP, was appointed as a supervisory medical technologist at the U.S. Department of Veterans Affairs in February 2016. He is currently stationed at the VA Long Beach (VALB) Healthcare System as the facility's transfusion service supervisor. Accooe serves as an educator, document control administrator and purchase card holder for Pathology & Laboratory Medicine Service (PALMS).
Past examples of Accooe's involvement in the blood community include participating in Lean Six Sigma process improvement work groups, PALMS National Program Office work groups, AABB's Continuing Education Advisory Committee, AABB's Accreditation Education Advisory Committee, AABB's Blood Banks and Transfusion Services Accreditation Committee, and mentorship programs at both AABB and Johns Hopkins University's Carey School of Business. He has also facilitated servant leadership training at VALB, presented clinical research AABB's Annual Meeting, and presented continuing education at AABB's Annual Meeting.
Accooe also serves as Secretary of VALB's Patient Blood Management Committee and as a National Quality and Compliance Consultant for the PALMS National Enforcement Office at the VA. He also provides consultative services as a transfusion medicine subject matter expert for VALB's Nursing Practice Committee.