At-Large Director (Position 8)
Celina Montemayor-Garcia, MD, PhD
Canadian Blood Services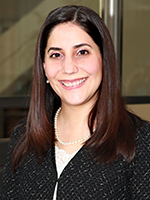 Celina Montemayor-Garcia, MD, PhD, is medical and scientific lead of red cell genomics at Canadian Blood Services (CBS). Montemayor-Garcia leads the Toronto red cell antigen genotyping services and the CBS Genomics Development Program, and she provides medical services for the CBS National Immunohematology Reference Lab and the CBS Rare Blood Program.
Previously, she served as an assistant clinical investigator in the department of transfusion medicine at the National Institutes of Health (NIH) Clinical Center, where she participated in the transfusion and cellular therapy care of NIH Clinical Center patients and led research efforts toward the development of open-source bioinformatic algorithms that integrate next generation sequencing into transfusion medicine. Her main research interests are genomics, software programming and big data science. Montemayor-Garcia has presented her research at various national and international forums, and she addressed the important role of genomics in the future of the blood industry as a speaker at the 2019 NBF CORD Summit.
Montemayor earned her medical degree in Monterrey, Mexico, and holds a PhD in molecular and cellular biology from Baylor College of Medicine. She is board-certified in anatomic pathology, clinical pathology and blood banking/transfusion medicine. She completed her clinical and research transfusion medicine fellowship at NIH in 2017.
Montemayor-Garcia has been an active AABB member since 2015 and has served in various committees and capacities, including as chair of the AABB Diversity, Equity, Inclusion, and Access (DEIA) Task Force; elected member of AABB's Cellular Therapy Section Coordinating Committee (CTSCC); and leader of AABB's CT Spanish Language Subsection (SLS). Through these roles, Montemayor-Garcia promotes the importance of DEIA values in the organization and in the transfusion medicine and biotherapies field, leading the creation of the AABB DEIA Action Plan. She also promotes networking and information exchange with international AABB members, as well as language diversity and access in biotherapy and transfusion medicine educational resources.