Chair, AABB Interorganizational Task Force on Domestic Disasters and Acts of Terrorism
John Hagins
The Community Blood Center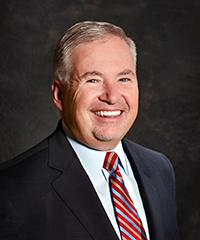 John Hagins is president and CEO of The Community Blood Center in Appleton, Wisc. In this role, Hagins is responsible for the overall leadership and direction of a blood center that provides blood and blood products to more than 30 primary supply hospitals in Wisconsin and Michigan, and serves as a secondary supplier to customers throughout the U.S.
Hagins holds a Bachelor of Arts degree in business administration from Stockton University in Pomona, N.J. and has been in the blood banking field for 35 years. Prior to moving to Appleton, Hagins worked for the American Red Cross Blood Services in Philadelphia, Pa. and Johnstown, Pa.
Hagins is also chair of the Board of Directors of Blood Centers of America (BCA); is a member of the Public Policy Council for America's Blood Centers (ABC); and previously served as president and a member of the Board of Directors of the Association of Donor Recruitment Professionals (ADRP). Hagins also serves as chair of Board of Directors of Blood Centers' Exchange (BCx).