At-Large Director (Position 3)
Dawn Ward, MD, CABP
UCLA Health, David Geffen School of Medicine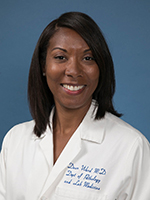 Dawn C. Ward, MD, CABP, is the medical director for the University of California at Los Angeles (UCLA) Health, Blood and Platelet Center and an associate medical director of the transfusion medicine service. She is also an associate clinical professor in the department of pathology and lab medicine and the director of the Center for Pathology Research Services and Pathology Research Portal at UCLA, David Geffen School of Medicine. In addition, she serves as a co-chair for her department's Equity, Diversity and Inclusion Committee.
Ward received a bachelor of science degree in biology from Spelman College in Atlanta. She subsequently worked in clinical and commercial cell culture manufacturing and as a quality and compliance officer at a world-leading biotech company. She earned her medical doctor degree from Loma Linda University, School of Medicine. She completed her clinical pathology residency at UCLA, David Geffen School of Medicine. She was a clinical/research fellow in the department of transfusion medicine at the National Institutes of Health in Bethesda, Md.
Ward's scholarly concentration includes clinical laboratory process innovation and blood product utilization. She is passionate about mentoring and introducing pipeline programs to students to expand their interests in health careers and laboratory medicine.
Ward was recently selected as a board member of the California Blood Bank Society (CBBS). She was also a member of the CBBS Scientific and Clinical Medical Education Committees. Ward was the recipient of the 2018 UCLA Exceptional Physician Award and the co-recipient of the 2019 American Society of Clinical Pathology Red Cell Utilization, Effective Test Utilization Award. Ward has been a member of the AABB since 2009. She is a past participant of the Professional Engagement Program (PEP) mentoring program and is a member of the Selection of Abstracts Committee.