Director (Transfusion Medicine Section Representative)
Wen Lu, MD
Brigham and Women's Hospital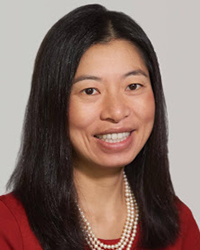 Wen Lu, MD, is the medical director of the Kraft Family Blood Donor Center, associate medical director of the transfusion service at Brigham and Women's Hospital, and program director of the Harvard Medical School fellowship in transfusion medicine. Previously, she was the medical director of the progenitor cell processing laboratory and a transfusion medicine staff physician at the Cleveland Clinic.
Lu received her bachelor of science degree in biochemistry from the University of Washington and earned her medical degree at New York Medical College. She continued her training at the Hospital of University of Pennsylvania as a clinical pathology resident and transfusion medicine fellow. Her scholarly interests in transfusion medicine include perinatal immunohematology, hospital inventory management, transfusion safety and hemovigilance.
Lu is a member of the podcast committee for the journal Transfusion. She has been active in AABB and served as a member of the Circular of Information Task Force, team lead of the Annual Meeting Education Committee (AMEC), Transfusion Medicine Subsection Coordinating Committee (TMSCC) liaison to the Hemovigilance Committee, and chair of the AABB Clinical Hemotherapy Subsection within the TMSCC. As subsection chair, she helped update the AABB Guide for Prenatal and Perinatal Immunohematology and was editor of the AABB Guide to Antibody Identification and the AABB Guide to the Laboratory Evaluation of Transfusion Reactions.