The John Elliott Memorial Award, established in 1956, recognizes an individual who has given outstanding service to AABB by demonstrating a willingness to lend his/her expertise to the association through work on committees, the AABB Board of Directors and other areas.
The recipient will receive a $1,000 honorarium. The John Elliott Memorial Award is presented in odd years only.
Eligibility
To be eligible for this award, candidates:
Need not be a member of AABB.
Must have demonstrated outstanding service to the Association.
Must have a completed nomination form submitted during the nomination period.
Selection
Recipient is selected by a joint committee comprised of leaders from the Cellular Therapies Section Coordinating Committee and Transfusion Medicine Section Coordinating Committee.
Please send all inquiries about this award to awards@aabb.org.
2021 Recipient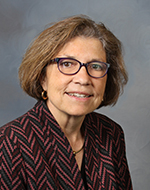 Susan T. Johnson, MSTM, MT(ASCP)SBBCM
Director of Clinical Education, Versiti
Director of the Transfusion Medicine Program, Marquette University
Associate Director, Indian Immunohematology Initiative
Citation:
For her extraordinary commitment to involvement on various committees and service through her numerous presentations of AABB programs related to Immunohematology and Reference Laboratories.